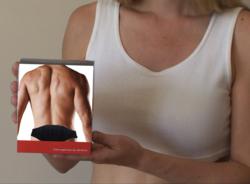 Men will not experience any side effects, while wearing Dr. Allen's Device for Prostate Treatment.
London, UK (PRWEB) April 27, 2012
Men do not need to worry about development of any health problem while treating benign prostatic hyperplasia (BPH) with new Thermobalancing Therapy, though they have to be very careful while taking medications widely used for prostate enlargement, Fine Treatment highlights. According to the Prostate Cancer Foundation (PCF), the risk of BPH in the USA increases every year after age 40: BPH is present in 20% of men in their fifties, 60% of men in their sixties, and 70% of men by age 70.
The most common prescribed drugs for BPH, approved by the U.S. Food and Drug Administration (FDA) in different years, are the following: Finasteride (Proscar), FDA-approved in 1992; terazosin (Hytrin) in 1993; tamsulosin (Flomax) in 1997; and dutasteride (Avodart) in 2001. These medications try to improve urination in men with enlarged prostate but at the same time deliver various unpleasant complications to their general health.
The HealthDay Reporter S. Reinberg (USNews) in March, 2011, reviewed the existing studies regarding medications for BPH and stated: use of dutasteride (Avodart) and finasteride (Proscar and Propecia) were linked to erectile dysfunction, depression and loss of libido in a review of existing studies. In a small percentage of cases, symptoms persisted even after the medication was stopped. For those men, "it's a life sentence," said lead researcher Abdulmaged M. Traish, a professor of biochemistry and urology at Boston University School of Medicine. "No sex. No desire. Potential depression," Traish added. Another study done at the Harvard Medical School reveals the hurtful complications arising from other two drugs: tamsulosin (Flomax) that may suddenly make men become lightheaded and terazosin (Hytrin) which can be responsible for the acute urine retention.
With the natural and effective Dr Allen's device for Prostate Treatment, there is now no need for men to be concerned with the side effects of BPH drugs. Watch a short video about Dr Allen's device here: http://www.youtube.com/watch?v=V5xidswhxJM.
"Unlike medications, new Thermobalancing Therapy reduces the symptoms of BPH gradually," says Dr. Simon Allen. "Men will not experience any side effects, while wearing Dr. Allen's Device for Prostate Treatment."
Dr. Allen's therapeutic device improves the affected prostate condition naturally. You can read more at http://www.finetreatment.co.uk/prostatetreatmentbph/prostatitistreatment.html.
About Dr. Simon Allen and Fine Treatment:
Dr. Simon Allen is a highly experienced medical professional. His specialty is in the internal medicine and cardio-vascular field, and he has treated patients after a heart attack, with kidneys problems, including kidney stones disease, prostate and spine conditions. Fine Treatment exclusively offers Dr Allen's devices for chronic prostatitis and BPH, coronary heart disease, dissolving kidney stones, as well as back pain and sciatica relief.