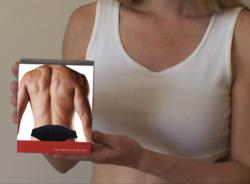 Dr. Allen's therapeutic device cleanses the prostate gland from inflammation and unnecessary tissue improving potency and libido, and thus a man's overall well-being.
London UK (PRWEB) July 28, 2012
Men who have been suffering from prostate enlargement (BPH) and chronic prostatitis / chronic pelvic pain syndrome (CP/CPPS) may develop sexual problems which can be worsened by long-term courses of antibiotics or other drugs, while new Dr. Allen's device helps to recover from prostate disorders improving potency and libido, Fine Treatment reveals. This new prostate treatment with Dr. Allen's device is natural and can be applied at home easily fitting into daily activities of its users. Please watch short video how this therapy has helped a user to reduce the size of his enlarged prostate: http://www.youtube.com/watch?v=dCFy_jZgCLw.
Many publications confirm that prostate problems have a negative impact on sexual function. For instance, Zeph Okeke et al., Sexual Function in Ethnically Diverse Men with CPPS, New York, 2004 states, "No matter what race you are, CP/CPPS has profound effects on sexual function." These researchers assessed sexual function in 51 men with CP/CPPS, age 23 to 58 years; 57% were Caucasian, 27% were Hispanic, and 16% were African American. All three groups had a significant decrease in sexual function and satisfaction and painful ejaculation.
According to the National Institutes of Health, it was estimated that erectile dysfunction in men between the ages of 60 and 70 was seen in approximately 30% of the general population, and between the ages of 70 and 80, in about 50% to 60% of the population. The limited evidence at the time suggested the prevalence of erectile dysfunction was basically the same in patients diagnosed with clinical BPH.
Commonly used prostate drugs make sexual dysfunction worse. According to the American Urological Association, Finasteride or Dutasteride can cause sexual side effects including ejaculatory abnormalities, erectile dysfunction and loss of interest in sexual activity. The side effects of Tamsulosin include dizziness upon standing, vertigo and ejaculation disorders.
Unlike prostate drugs, the Thermobalancing Therapy improves men's health and well-being. Timo, 38, used to suffer from chronic prostatitis for quite a long time, and started wearing Dr. Allen's device in March 2012. In July 2012 he shares: "Not a problem with the prostate condition at a moment, since June."
"The benefits of the Thermobalancing therapy are obvious as it's effective and natural," says Dr. Simon Allen. "Dr. Allen's therapeutic device cleanses the prostate gland from inflammation and unnecessary tissue improving potency and libido, and thus a man's overall well-being."
For details, please visit Fine Treatment at
http://www.finetreatment.co.uk/prostatetreatmentbph/prostatitistreatment.html.
About Dr. Simon Allen and Fine Treatment:
Dr. Simon Allen is a highly experienced medical professional. His specialty is in the internal medicine and cardio-vascular field. He has treated patients with a wide range of chronic diseases, such as after a heart attack, with kidneys problems, including kidney stones disease, prostate and spine conditions, as well as metabolic disorders. Fine Treatment exclusively offers Dr Allen's devices for chronic prostatitis and BPH, coronary heart disease, dissolving kidney stones, as well as upper and lower back pain and sciatica treatment.