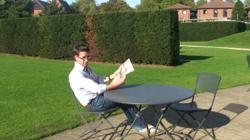 By treating chronic prostatitis and BPH successfully, Dr. Allen's device supports men's normal sexual function.
London, UK (PRWEB) April 29, 2012
Men can rest assured that the new Thermobalancing Therapy will only have a positive effect on the prostate gland and its secretion, including the passing of sperm, as no artificial source of heat is involved, Fine Treatment reveals. Dr. Allen's Device for Prostate Care, which enables the therapy, consists of a soft belt and a natural thermo-element with no battery init. The device is not only completely natural but also highly active as works all the hours while it is applied to the body. Moreover, by restoring the condition of the prostate, it improves men's sexual health that cannot be achieved with medication or different prostate removal procedures.
The consideration of an impact of a prostate treatment on a man's sexual life is essential, whether treating a young male with chronic prostatitis or a mature man with benign prostatic hyperplasia (BPH). According to the Mayo Clinic, "Sexual health is important at any age. And the desire for intimacy is timeless. While sex may not be the same as it was in your 20s, it can still be as fulfilling as ever. Discover which aspects of sexual health are likely to change as you age —and how you and your partner can adapt."
Prostate drugs which try to improve urination in men with BPH may deliver various unpleasant complications. The Prostate Action educational body states that some treatments for BPH can leave a man with reduced or absent erections. According to thehealthrevelations.com, "now, a new survey shows how most men who undergo prostate surgery have no idea what they're in for — and a year after the procedure, most of them are positively stunned by the loss in quality of life…not to mention all the adult diapers they need."
Dr. Allen's device treats BPH and chronic prostatitis well, please see the following video http://www.youtube.com/watch?v=dCFy_jZgCLw.
"The Thermobalancing Therapy cannot harm as it reduces the inflammation and size of the affected prostate naturally," says Dr. Allen. "By treating chronic prostatitis and BPH successfully, Dr. Allen's device supports men's normal sexual function."
Dr. Allen's device should be used every day for 3-months and later at night. Read more at http://www.finetreatment.co.uk/prostatetreatmentbph/prostatitistreatment.html.
About Dr. Simon Allen and Fine Treatment:
Dr. Simon Allen has worked in different medical clinics and hospitals and has treated patients with various internal conditions, such as cardio-vascular and renal diseases, joints problems and subsequently headed a hospital. Fine treatment offers natural devices for chronic prostatitis and BPH treatment, for the treatment of a coronary heart disease and recovery after a heart attack, to dissolve kidney stones and to relieve back pain, including sciatica.