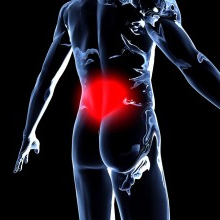 Dr. Allen's therapeutic devices reduce back pain and impaired prostate symptoms helping their users to improve libido and potency.
London, UK (PRWEB) October 29, 2012
It is common to note age as the main reason for lowered libido. In fact, different chronic health conditions, such as chronic back pain, prostate enlargement and chronic prostatitis, that often lead to the lack of sexual drive. Various attempts to treat these conditions with drugs and surgeries cause undesirable side effects, whereas the natural Thermobalancing therapy helps people to regain normal sexual life by treating lasting health problems harmlessly and effectively, Fine Treatment reveals.
The results of SpineUniverse's national survey on Sexual Satisfaction and Back Pain (read the article Back Pain and Its Impact on Sexual Satisfaction for survey results) indicate that back pain is ruining the sex lives of many people.
Increasingly, more men and women now have the courage to seek treatment for lowered libido. Today's society is more open to acknowledging such conditions and to the fact that people want to find ways for sexual enhancement, states 'Free Guide to Performance' of October 23, 2012. As a general rule, men are more prone to sexual dysfunction than women, so various cures for erectile dysfunction are widely advertised as best male enhancement products on almost all websites on men's health.
In many cases, the development of sexual dysfunction in men depends on the condition of the prostate gland. According to the researches supported by the National Institutes of Health (NIH), sexual dysfunction and/or loss of libido (sex drive) are symptoms of chronic prostatitis and benign prostatic hyperplasia (BPH).
Medications used for chronic prostatitis and BPH are risky as sexual problems may follow. For instance, researchers from the Boston University School of Medicine, in collaboration with colleagues from Denmark and Germany as well as Lahey Clinic, have found that 5a-reductase inhibitors, while improving symptoms, produce significant adverse effects in some individuals, including loss of libido, erectile dysfunction (ED), ejaculatory dysfunction and potential depression. These findings were published in the Journal of Sexual Medicine in 2011. The risk of ED after different prostate removals procedures is even greater.
The Thermobalancing therapy treats prostate well without side effects and can prevent complications arising from other treatment methods. Please watch the following video http://www.youtube.com/watch?v=dCFy_jZgCLw on how a man with a hugely enlarged prostate has shrunk it by wearing Dr. Allen's device.
"Suffering from the side effects of prescribed pills and surgeries is unacceptable as the Thermobalancing therapy is able to help naturally," says Dr. Simon Allen. "Dr. Allen's therapeutic devices reduce back pain and impaired prostate symptoms helping their users to improve libido and potency."
For details, please visit Fine Treatment at
http://www.finetreatment.co.uk/prostatetreatmentbph/prostatitistreatment.html.
About Dr. Simon Allen and Fine Treatment:
Dr. Simon Allen is a highly experienced medical professional. His specialty is in the internal medicine and cardio-vascular field. He has treated a wide range of chronic diseases, including patients after a heart attack, with kidneys problems, including kidney stones disease, prostate and spine conditions, as well as metabolic disorders. Fine Treatment exclusively offers Dr. Allen's devices for chronic prostatitis and BPH treatment, coronary heart disease, dissolving kidney stones, as well as lower back pain relief and sciatica treatment.