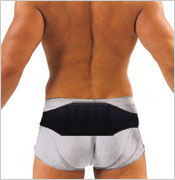 Dr. Allen's therapeutic device helps with prostate conditions in a totally painless and side effects free way.
London, UK (PRWEB) July 15, 2012
Fine Treatment is pleased to share patient testimonials concerning entirely prostate conditions such as chronic prostatitis (or chronic pelvic pain syndrome) and benign prostatic hyperplasia (BPH). While the recovery with the new Thermobalancing Therapy takes time, men are rewarded with a painless process and no side effects to follow.
A user of Dr. Allen's device, Timo, 38, used to suffer from chronic prostatitis for quite a long time. Before starting to use of Dr. Allen's device in February 2012, he described his condition in the following way: "I have front side pains and few times a day painful peeing urgency and suddenly back to normal pee rhythm. I am depressed because no medication helps. Trying to live with this and take care of 2 small children, wife and work." Now, in July 2012 Timo is happy to share: "Not a problem with the prostate condition at a moment, since June, so I am not wearing the device any longer."
According to the National Institute of Health (NIH), "Chronic nonbacterial prostatitis is a condition that causes long-term pain and urinary symptoms. It involves the prostate gland or other parts of a man's lower urinary tract or genital area. Treatment for nonbacterial prostatitis is difficult."
Contrary to many medications used for chronic prostatitis/CPPS, Dr. Allen's device improves the condition of the prostate gland and eases the symptoms of this disorder gradually. The Thermobalancing Therapy also helps to increase men's well-being by avoiding numerous adverse side effects from BPH drugs and other medications. Also Dr. Allen's device helps as an exceptionally powerful protection from disturbing prostate enlargement, http://www.youtube.com/watch?v=dCFy_jZgCLw
It is known that BPH drugs are risky as sexual problems may follow. Researchers from the Boston University School of Medicine (BUSM), in collaboration with colleagues from Denmark, Germany and Lahey Clinic, have found that 5a-reductase inhibitors (5a-RIs), can produce significant adverse effects, including loss of libido, erectile dysfunction (ED), ejaculatory dysfunction and potential depression. These findings were published in 2011 in the Journal of Sexual Medicine.
"This patient case demonstrates the recovery from chronic prostatitis comes slowly but surely," says Dr. Simon Allen. "Dr. Allen's therapeutic device helps with prostate conditions in a totally painless and side effects free way."
For details, please visit Fine Treatment at
http://www.finetreatment.co.uk/prostatetreatmentbph/prostatitistreatment.html.
About Dr. Simon Allen and Fine Treatment:
Dr. Simon Allen is a highly experienced medical professional. His specialty is in the internal medicine and cardio-vascular field. He has a wide range of chronic diseases, including patients after a heart attack, with kidneys problems, including kidney stones disease, prostate and spine conditions, as well as metabolic disorders. Fine Treatment exclusively offers Dr Allen's devices for chronic prostatitis and BPH, coronary heart disease, dissolving kidney stones, as well as upper and lower back pain and sciatica treatment.