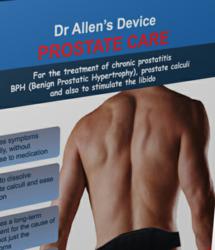 This new natural therapy improves the condition of the prostate gland gradually relieving the symptoms of chronic prostatitis.
London, UK (PRWEB) January 12, 2012
Fine Treatment has demonstrated that men can treat chronic prostatitis without taking antibiotics and medication. The news brings great relief to many men and their families. The new Thermobalancing Therapy for chronic prostatitis/chronic pelvic pain syndrome (CPPS) helps patients to recover without painkillers and antibiotics. Currently chronic prostatitis is treated with a long course of antibiotics (lasting 6 - 12 weeks or longer). However, the majority of men complaining of pain down under don't have a fever, and test negative for bacterial infections. So the use of antibiotics, which are designed to fight infections, for the treatment of chronic prostatitis is pointless.
According to MedicineNet, "Antibiotics, even used for short periods of time, let alone for life-long therapy, raise the issues of both toxicity and the emergence of bacterial antibiotic resistance. (Bacterial antibiotic resistance means that the bacteria do not respond to the antibiotic treatment.)" According to eMedExpert, "Continued use of antibiotics, especially broad-spectrum antibiotics, can seriously disrupt the normal ecology of the body and render anyone more susceptible to pathogenic (disease causing) bacteria, yeast, viral and parasitic infection."
It is true that some symptoms of prostatitis are so agonizingly painful that men would not wish them to their worst enemies. That is why a chronic pelvic pain syndrome (CPPS) has been singled out as a special condition. It is used to designate unexplained pelvic pain in men in the absence of pyuria and bacteriuria (no pus cells or bacteria seen on microscopic analysis of the urine). Of course, in such cases men use a lot of painkillers that usually cause common side effects, such as drowsiness, constipation and others.
"Contrary to antibiotics and painkillers, the new Thermobalancing Therapy treats chronic prostatitis as it reaches the prostate gland effectively," says Dr. Allen. "This new natural therapy improves the condition of the prostate gland gradually relieving the symptoms of chronic prostatitis."
The following video clearly demonstrates a new way for men to treat chronic prostatitis without painkillers and antibiotics, and without taking the time out for the treatment. It shows a new chronic prostatitis treatment as the natural therapeutic Dr Allen's device eases pain and inflammation, restoring potency and increasing libido. Read more at http://www.finetreatment.co.uk/natural-alternative/prostate-treatment.html.
About Dr. Simon Allen and Fine Treatment:
Dr. Simon Allen qualified as a medical doctor 40 years ago and is a highly experienced medical professional. His specialty is in the cardio-vascular field. He has treated patients with coronary heart disease, joints, kidneys and prostate conditions. Fine treatment produces and distributes devices for chronic prostatitis and BPH treatment, for the assistance in the recovery after a heart attack; they also dissolve kidney stones and relieve back pain in upper and lower spine areas.
###