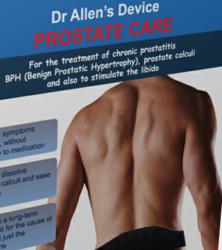 Dr. Allen's therapeutic device acts locally terminating the prostate swelling and, thus, relieving pain and other symptoms of chronic prostatitis.
London, UK (PRWEB) April 21, 2012
New Thermobalancing Therapy relieves chronic pelvic pain and helps men to recover from chronic prostatitis/chronic pelvic pain syndrome (CP/CPPS) gradually, despite the fact that many clinicians find difficult to treat this prostate problem, Fine Treatment reveals. As the treatment of chronic prostatitis has been usually ineffective it could include continued use of antibiotics and other drugs. The main purpose of continuous medication intake can be explained as it is better than doing nothing. However, different medications may develop one or more negative side effects.
According to the finding of researchers from Immune System Etc.com, "to today the constant use of antibiotics with humans and livestock is a leading factor in our growing inability to eradicate disease. The overuse of these 'wonder drugs' has improved the strength of our ever-evolving bacterial population." Dr. D'Adamo continues by saying that, continued and heavy use of antibiotics destroys not only the infection, but all of the good bacteria (healthy gut flora) in the digestive tract.
According to the study supported by the National Institutes of Health (NIH), "Antimicrobials cannot be recommended for men with longstanding, previously treated CP/CPPS; however, some clinical benefit may be obtained in antimicrobial-naive early-onset prostatitis patients."
Unlike antibiotics, a unique prostate treatment with Dr. Allen's Device for Prostate Care enables the Thermobalancing Therapy helps patients to recover from CP/CPPS by improving the blood flow in an inflamed prostate tissue which reduces the swelling of the prostate gland relieving symptoms. No antibiotics or other type of drugs can do this that is why the Thermobalancing therapy is essential for chronic prostatitis/chronic pelvic pain syndrome. The video shows a man with CPPS who has suffered from pelvic pain for over 4 years while taking antibiotics, and then has treated himself with Dr. Allen's device at home: http://www.youtube.com/watch?v=a48bbQJQsdE.
"Chronic prostatitis is a result of the pathological processes inside the prostate tissue which must be treated locally in the first place," says Dr. Simon Allen. "Dr. Allen's therapeutic device acts locally terminating the prostate swelling and, thus, relieving pain and other symptoms of chronic prostatitis."
For details, please visit Fine Treatment at http://www.finetreatment.co.uk/prostatetreatmentbph/prostatitistreatment.html.
About Dr. Simon Allen and Fine Treatment:
Dr. Simon Allen is a highly experienced medical professional. His specialty is in the internal medicine and cardio-vascular field. He has treated patients after a heart attack, with kidneys problems, including kidney stones disease, prostate and spine conditions. Fine Treatment exclusively offers Dr Allen's devices for prostate treatment, coronary heart disease, dissolving kidney stones, as well as back pain and sciatica relief.