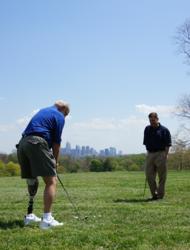 It's about giving 110% for them and finding the right solutions for each individual. Sometimes it's simple; other times it requires a great deal of time and research. Regardless, we are proud in making the right way our way."
Eddystone, PA (PRWEB) June 01, 2011
Prosthetic Innovations, LLC celebrates their Fifth Anniversary since its inception on June 1, 2006, aimed at providing the most progressive care available to all upper and lower extremity prosthetic clients across the country. Its partners, Chris Dalmass, Michael Rayer and brother, Timothy Rayer began the business with one intention… come to be the absolute best in the industry not just any way, nonetheless, the right way.
Chris Dalmass, a Widener University graduate and four-year football letterman, began his prosthetic education at Northwestern University School of Medicine in Chicago, Illinois. For Dalmass, prosthetic care would be a natural fit. Fast-forward twenty years, and partner of a cutting-edge prosthetic facility, his commitment to the amputee community is truly astounding.
"For us, it's supporting our clients to realize their maximum potential and instilling in them the confidence to do everything in their life they once did. Their success is our success," said Dalmass. An active member of his Moorestown, New Jersey community, he is proud to vitalize his four children with the very same philosophies his clients have shown him.
Michael Rayer, who focuses on the company's upper extremity program, appreciates the importance of his client's hard work growing up as an exceptional swimmer. Upon graduating from Germantown Academy before his University of Virginia tenure, Rayer competed in the 1988 Olympic trials at the University of Texas.
He comments, "What my swimming experiences have taught me has aided our clients. We are dealing with people who come to us feeling defeated. Watching them work so hard to become the strong and hopeful individuals they are in their 'new life' is a win for all of us." Rayer, who received his graduate education at the University of Connecticut School of Medicine, finished second in his class.
The company, practicing out of a unique Eddystone-based facility (formerly a test site for Baldwin Steam Engines), would brand their first five years as "a strong foundation." Timothy Rayer, an outstanding, forward-thinking clinician, has much to do with their success. His passion for progressive prosthetic technology has enabled their clients to journey into unchartered territory.
A graduate of The Pennsylvania State University and the University of Connecticut School of Medicine's prosthetic program, Rayer is persistent in defining only the best for their clients. Rayer adds, "It's about giving 110% for them and finding the right solutions for each individual. Sometimes it's simple; other times it requires a great deal of time and research. Regardless, we are proud in making the right way our way."
"Never let it rest 'til your good is better and your better is best." That proves to be the only way for Prosthetic Innovations, LLC.
Prosthetic Innovations, LLC is a unique prosthetic center specializing in advanced socket designs, bionics, gait training, and high-performance prosthetics to maximize the functional potential in every amputee. In operation since 2006 and with over forty years of experience, Prosthetic Innovations, LLC is committed to empowering its clients with the education and support for all endeavors. Our organization, based in Eddystone, PA provides superior service for all upper and lower extremity prosthetic cases across the country.
For more information, visit us on the web at PROLIMB.com or contact Tyl Sadoff at 610-447-8777.
###