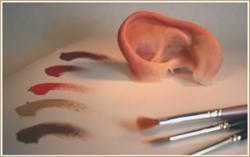 It's truly an honor to serve both veterans and everyday adults, children and even infants
Naples, FL (PRWEB) September 25, 2012
The sacrifice that U.S. veterans make for our country can sometimes include suffering injuries that require custom prosthetic solutions. The Center for Custom Prosthetics has served hundreds of veterans in an effort to restore their quality of life. As a veteran and minority owned business, the practice is proud to aid members of the U.S. Armed Forces from throughout the country. Beyond treating veterans, the Center treats individuals from all walks of life, providing the same standard of excellent quality care to the general public.
The Center for Custom Prosthetics will be expanding its custom services this Fall by opening new offices on Florida's east coast. These offices will better serve patients, not only throughout Florida, but nationwide as they'll be easily accessible via the Miami, Fort Lauderdale and West Palm Beach airports.
The custom prosthetic services offered at the practice include ocular, orbital, ear, nose, hand, fingers, toes and breast. These services are primarily intended for patients with traumatic and sport injuries, cancer, surgical and congenital deformities. The Center has both national and international recognition, with patients traveling from around the world to receive custom prosthetics. The practice has an excellent staff that assists with all insurance companies in obtaining initial benefits and eligibility, pre-authorizations, and the filing of claims for all our patients.
With a combined experience of over 60 years, Raymond E. Peters and David Trainer bring renowned expertise to the practice. "It's truly an honor to serve both veterans and everyday adults, children and even infants," stated Peters. "Whether we're creating a custom made prosthetic eye, prosthetic ear or prosthetic nose, it's humbling to know that we can positively impact a patient's life, not just physically but emotionally as well," added Trainer.
About the Maxillofacial Prosthetists
Raymond E. Peters is one of the original Masters in ocular and craniofacial prosthetics. He began his career in the U.S. Navy Dental Department of the Medical Research Division at the Bethesda, MD, Naval Complex. His training consisted of researching new methods of incorporating pigments into ocular prosthetics and other synthetics used in duplicating parts of the human body. Peters later served as Chief of the Artificial Eye and Restorations Clinic of the Veterans Administration in Washington, D.C., and was involved in the installation of regional clinics throughout the United States. Raymond Peters was formerly with Mager and Gougelmann, Inc., in New York, the well-recognized and respected pioneers of custom artificial eyes, who were the first to introduce the 'glass eye' to the United States. He then had his own business, 'Eye Restoration Clinic of Mager and Gougelmann' in Washington. D.C., where he helped thousands of patients throughout the United States. He has been certified as an Ocularist and Master of Ophthalmic Prosthetics.
David Trainer is a Board Certified Anaplastologist specializing in craniofacial prosthetics with 25 years of clinical experience in all phases of prosthetic rehabilitation. Trainer works closely with humanitarian organizations for the treatment of children in third world countries, many of which have been featured in newspapers and TV shows across the world. Presently he is the teaching professor at the University San Paulo, Brazil, as well as an acclaimed speaker/lecturer throughout the U.S. and internationally. In addition, Trainer is the author of Dictionary of Prosthetic Rehabilitation, which is used by many universities in curriculum.
About The Center for Custom Prosthetics
The Center for Custom Prosthetics is located in Naples, Florida, with new offices opening soon on the east coast of the state. The practice is known state wide and internationally for the attention to detail in every process for the specific requirements of every patient. Each prosthesis is custom made to the individual patient in order to provide comfort, aesthetic, therapeutic function, and protection from environmental debris.
For more information, visit http://www.bestprosthetics.com or call 888-770-6049.