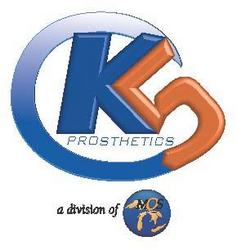 the leading provider of Ossur Proprio feet in the United States
Livonia, MI (Vocus) September 2, 2010
In the past few months Michigan Orthopedic Services has undergone a momentous corporate transformation, including renaming the company as MOS, positioning for geographical expansion. MOS has seamlessly restructured their management team in effort to improve performance and focus on consistently delivering outstanding patient services and devices. Joe Condon, recently named MOS President and CEO, is proud to announce the launch of a new division, K5 PROSTHETICS.
"It is an exciting time for MOS as we begin to transform a company with a strong Michigan legacy into a national leader in treating specific patient indications, beginning with K5 PROSTHETICS. We are committed to make MOS a great place to work, attracting and retaining the most talented Board Certified Clinicians and Board Certified Technicians in the industry to fulfill our mission of patient care. K5 PROSTHETICS will provide our amputee patient's with life changing solutions and lifelong friends."
K5 PROSTHETICS provides technical expertise and unparalleled services to the amputee community, assuring that every patient in its care achieves their K5 PROSTHETICS potential: Ambulation without Limitations.
With a caring, personal approach to patient care, every patient is consulted with to assure that their personal K5 PROSTHETICS lifestyle is clearly understood, defined and achieved. Once the prosthesis is designed by a certified clinician, K5 PROSTHETICS utilizes its staff of ABC Certified Prosthetic Technicians to fabricate the device for optimal fit and comfort.
Throughout the patient's prosthetic journey from amputation to ambulation without limitations, K5 PROSTHETICS plays the role of clinical expert, coach, mentor, patient advocate and most importantly friend. A lynchpin in providing a comprehensive prosthetic offering that covers the patient's entire continuum of care, the K5 Prosthetic clinicians work with patients to improve strength, endurance and flexibility via a clinically reviewed training regimen, and improve a patients gait via Amputee Walking Schools and practice within the K5 PROSTHETICS comprehensive Amputee Life Center.
As "the leading provider of Ossur Proprio feet in the United States", a Clinical Collaborating Partner with TouchBionics, a Platinum Partner with Otto Bock, and the preferred distributor of BiaCare CompreFit compression garments, K5 PROSTHETICS has access to the world's leading prosthetic technology.
With a robust thirst for advancing both clinical and technical research, K5 PROSTHETICS is constantly advancing the industries knowledge base in terms of gait analysis, amputee strength, endurance and flexibility, prosthetic fabrication standards, cutting edge bionic componentry and clinical education for fellow healthcare team members. In conjunction with the world's leading prosthetic manufacturers, K5 PROSTHETICS is frequently consulted on tomorrow's products, today. To schedule an appointment call 800-592-2929 or email [email protected]
K5 PROSTHETICS has successfully partnered with over 100,000 patients and staffs its ABC certified facilities with ABC certified clinicians, residents and technicians. With over 250 years of prosthetic industry experience across its clinical team and clinical certification in dozens of specialized prosthetic product niches, there is no challenge that K5 PROSTHETICS can't overcome. To learn more about K5 PROSTHETICS, visit http://www.K5PROSTHETICS.com.
About MOS
MOS was founded in 1994 by Aziz Naser, CPO. Headquartered in Livonia, Michigan, MOS is an ABC accredited and FDA registered provider that specializes in the design, fitting and fabrication of custom orthotic and prosthetic (O&P) devices. All nine MOS locations throughout the Great Lakes State are accredited by the American Board for Certification in Orthotics and PROSTHETICS (ABC). MOS is committed to helping patients regain their mobility and independence. The company's mission is to "Maximize independence…through timeliness, quality and a caring personal touch." To learn more, visit http://www.moshealth.com.
Contact Info:
Reema Abdelnour
Marketing & Communications Manager
734-513-8205 x139
###