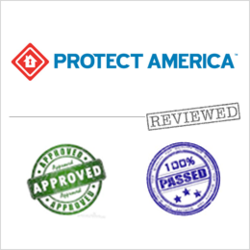 Protect America was one of the first to introduce the DIY model for alarm systems and they are still in the hunt for the best the industry has to offer.
Dallas, TX (PRWEB) April 24, 2013
AlarmSystemReport.com, the leading home alarm system review and consumer research provider, announced today that it has completed its 2013 Protect America review. Protect America is one of the nation's largest providers of home alarm system equipment and monitoring services. 2013 marks the second year in a row in which Protect America has obtained at least a four star rating from the company security system reviewers. Additionally, Protect America maintained its position on the list of top three best DIY home alarm systems.
In addition to its regular staff review writers who constantly monitor the alarm system market and update individual company reviews, AlarmSystemReport.com contracts with a number of independent home security and alarm system consultants to conduct the company's annual expert professional review of alarm system and security monitoring service providers. The process takes several months and includes fact checking all of the information provided by leading alarm system companies, checking Better Business Bureau records, conducting consumer surveys, and collecting additional customer satisfaction survey results from independent polling companies.
Protect America faired favorably in this year's rankings because of its high level of customer service, reliable and high quality wireless control panel and other monitoring equipment and sensors, and the ease of installation for its system. Most customers reported being able to very easily or somewhat easily install the system without the assistance of customer support or professional installation experts.
"A newly emerging trend in the home alarm system market is "do it yourself" installation," said Steve Ordona, head of public relations at AlarmSystemReport.com. "It used to be, with companies like ADT, customers would just have the cost of installation rolled into the bill, the security technicians would come out and do everything, and five or six hours later, everything would be ready. But with today's wireless alarm system technology, it's a whole other story. Customers can often install the equipment in less than an hour and have everything up and running with hardly any trouble at all."
Other companies besides Protect America that have rated highly in the DIY alarm system category include FrontPoint Security, LifeShield Home Security, ADT Security, and Vivint Security. For more information about these companies, including detailed consumer reviews, interested readers should visit AlarmSystemReport.com. The company has also recently added a new "instant quote" feature for top alarm system providers so that customers can obtain the most up-to-date information possible on equipment and service pricing.
About AlarmSystemReport.com
The home security and alarm system specialists at AlarmSystemReport.com have dedicated themselves to providing the best possible consumer research, reviews and recommendations for the industry's leading home alarm systems, as well as traditional wired, DIY, cellular, and wireless home alarm systems. AlarmSystemReport.com's staff of experienced industry experts, independent consultants, and highly knowledgeable review writers conduct ongoing consumer oriented research into the home alarm system market in order to bring consumers and homeowners the very best, accurate, and updated information and analysis they need to make the optimal choice for their home security needs. AlarmSystemReport.com only employs independent experts and consultants with no financial relationships to the home security and alarm system companies it reviews.
###