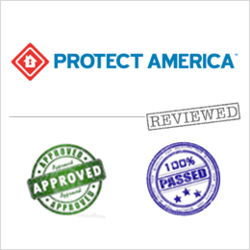 Protect America remains one of the best home alarm system companies in the country and their cellular alarm systems are in line with the best as well.
Boston, MA (PRWEB) April 29, 2013
AlarmSystemReport.com has revealed its list of the Best Cellular Alarm Systems for this New Year and Protect America has made the list. The alarm system reviews website has named the home security company as one of the top brands to offer cellular monitoring in the market. Landing the third pot on the list for 213, Protect America offers great affordability and easy to set-up home alarm systems.
Named as one of the top home alarm systems in the industry, Protect America has been in the industry for more than a decade. It offers Do It Yourself alarm systems to homes and businesses across the United States, with cellular monitoring. It makes use of quality General Electronic (GE) Wireless Alarm equipment, offering stability and accuracy. All of its systems are wireless and are easy to set-up, being employed by close to half a million consumers for their alarm security needs.
According to the alarm review site, Protect America offers a lot of advantages to its clients. It offers affordable fees with very little up-front costs, helping consumers employ home security alarm systems with the lowest costs. It offers five different packages starting from no up-front costs to minimal fees. The company's services allow every type of homeowner to acquire a wireless alarm system that would fit their needs without having to spend so much.
AlarmSystemReport.com's Protect America review specially noted the company's safe monitoring services. It offers three different monitoring options: Phone Line Monitoring, Broadband Monitoring and the most reliable, Cellular Monitoring. The company's Cellular Monitoring service is recognized as the safest and most reliable option in the market. The service uses cellular signals, much like a cellphone, to send notifications to the security company. This dismisses the probability of burglars disabling the alarm systems since everything will be wireless and will depend on cellular signals for communication.
Protect America is also one of the first alarm security companies to offer an interactive cellular monitoring feature. The service comes with an online or remote access and a free smartphone application allowing homeowners to access their home alarm system from any internet-enabled computer or through their smartphones.
"I want to thank you for helping me to feel safe. Whether I am in my home or away, I know someone is watching," writes Steven from Toledo, OH.
"Before we got the Protect America system our house was robbed of over $3,000 in property and damages…but since we installed Protect America we have not had any trouble. The system was easy to install and easy to operate," shared Keith Padgett of Long Beach, MS.
With a great number of satisfied customers, Protect America has proven that it deserves to be AlarmSystemReport.com's 2013 Best Cellular Alarm System third placer.
For more information on Protect America and other cellular alarm system services, visit alarmsystemreport.com.
About AlarmSystemReport.com
AlarmSystemReport.com is dedicated to offering consumers the latest news in the alarm system industry. It offers a collection of reviews, accomplished by a team of experts, to help consumers get the best home security service for the homes or businesses. The site is not owned, operated or affiliated with any alarm system company. It provides unbiased, factual reports on alarm systems available in the market.
# # #