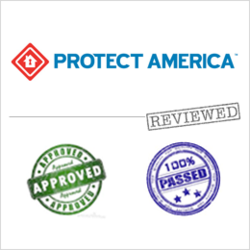 Our experts have completed the review and still find Protect America's services a quality option for those looking for an affordable home security system.
Baltimore, MD (PRWEB) January 16, 2013
The home security and alarm specialists at SecuritySystemReviews.com, one of the Internet's leading home alarm and system consumer review and information providers, announced today that they have completed their Protect America review and that the company has earned a spot among the company's annual ranking of best home security systems. Inclusion on the list means Protect America is in good company. FrontPoint Security, LifeShield Home Security, ADT, and Vivint Security comprise the rest of the list of top home security companies.
In the review they made public today, the writers at SecuritySystemReview.com praised several areas of Protect America's company performance. Reviews specifically highlighted the company's high level of customer service, it's relative affordability, the total value it offers, the quality and reliability of its home monitoring service plans, the wide variety of top of the line wired and wireless equipment the company offers, and its smart phone based cellular monitoring and remote access options. Protect America also earned high marks in customer service and customer satisfaction surveys, and the company was rated particularly high in its transparency on pricing, equipment availability, and other fact checked information.
"Besides being ranked number two in terms of overall home security system service providers, Protect America has also scored well in all of our subcategory rankings, including best wireless security system, best do it yourself system, and best cellular monitoring system," said Tim Eveler, head of public relations at SecuritySystemReview.com. "Their performance proves that the leaders of this company understand home security and the needs and wants of their customers. Protect America has been on the front lines of delivering reliability, quality, and affordability, and customers really respond to that. They also appreciate the impeccable customer service Protect America provides, especially since the company has committed itself to participating in annual review processes, such as the one we do here at Security Systems Review."
Potential home security system customers or anyone else interested in learning more about the home security market and the companies that cater to it should point their Web browsers to SecuritySystemReviews.com for more information about all of the leading home security system providers, including ADT, Vivint, LifeShield Home Security, and FrontPoint Security reviews.
About SecuritySystemReviews.com
As one of the top home security consumer review and report publishing companies in the nation, SecuritysystemReviews.com strives to maintain a dynamic, well trafficked website that includes reviews, reports, and other contributions from many of the nation's top home security, home alarm, and security system technology experts. The company's writers and reviewers work year round to stay abreast of all of the top home security system providers and the prevailing market conditions to guarantee that all of the sites company reviews, security tips, market reports, and other valuable content accurately portray and review all of the customer's top home security system choices, as well as being filled with as much useful market intelligence and other helpful recommendations as possible. SecuritySystemReviews.com's ultimate goal is that homeowners can also make the best decisions possible based on the company's home security system reviews to ensure the safety of their homes and families. SecuritySystemReviews.com also researches and produces a list of annual rankings of the top home security systems companies, as well as the leading wireless, do it yourself, cellular monitoring, and traditional home security system equipment and service providers.
###