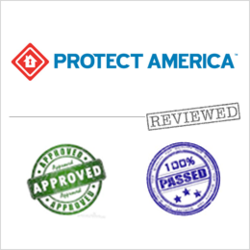 As wireless alarm systems become more popular and people start ditching wires for wireless, Protect America has adjusted the business model to meet the needs of a quickly evolving industry.
Baltimore, MD (PRWEB) February 18, 2013
The home alarm system specialists of Alarm System Report issued a statement this morning about their recently completed review of Protect America, a nationally known home security and alarm system equipment and monitoring service provider. The review has been published on AlarmSystemReport.com, which hosts a large collection of consumer research, reviews, and other security expert commentary and content on most of the nation's best home alarm system and home security companies, including ADT, FrontPoint Security, Vivint Security, Protect America, and LifeShield Security, as well as all of the latest and greatest alarm system equipment and new technologies.
The Protect America review shined light on the progress the company has made over the past few years. They recently started using a new wireless alarm system control panel that has been widely embraced by both new and old customers. In fact, on the strength of its wireless alarm system equipment, Protect America was ranked third overall in the nation in the category of top wireless alarm system for 2013.
The review also noted that Protect America scored well in the areas of technical support, ease of installation for its do it yourself alarm systems (an increasingly popular option for many young and tech savvy home owners), and the overall value that the company offers for the money on both its equipment and monthly alarm monitoring service plans.
"Protect America has definitely worked hard to establish itself as an up and coming leader among home alarm companies," said Steve Ordona, public relations head for Alarm System Report. "They are working hard to innovate on the technology and equipment front even as their management focuses as strongly as possible on value, affordability, and overall customer satisfaction. One of Protect America's biggest strengths is their being 'pretty good' at everything. The company may not specialize in one area, like Vivint does with home automation, for example, but they all an overall strong experience for the typical family looking for a generally high quality and reliable alarm system and monitoring service plan."
Home alarm system shoppers interested in learning about Protect America and other leading home alarm system companies should visit alarmsystemreport.com. The site also contains a wide range of useful information on home security, including buying guides and expert tips and commentary. All reviews and articles are available free of charge to the public.
About AlarmSystemReport.com
Alarm System Report operates and hosts an award winning and nationally recognized web site that specializes in providing home alarm system shoppers with all of the most relevant, reliable, up to date information possible about the home security and alarm system industry from seasoned and experienced experts with a long history of involvement in the home security field. The company's regularly updated web site maintains an alarm system review library that contains reviews of all of the nation's leading security companies, alarm system providers, and monitoring service companies. The company also conducts an annual ranking process that looks at the overall top home alarm systems, best wireless alarm systems, best do it yourself alarm systems, top alarm systems that integrate with smart phones, and leading alarm system companies that provide additional home automation services.