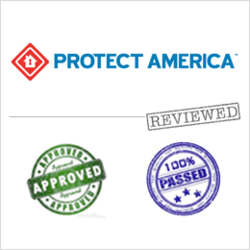 Our experts still think Protect America's services are among the best in the industry. A little needs to be done to claim a top position, but the improvements are visible for 2013
New Orleans, LA (PRWEB) January 29, 2013
According to a new announcement today from the home security and alarm system specialists at AlarmSystemReport.com, Protect America has landed a spot on the company's 2013 list of best cellular alarm system companies. To qualify for the list, a company must offer an Internet accessible home alarm system that has either a mobile Web app or native iOS, Android, Windows 8, BlackBerry, etc. app through which home owners can, at the very least, monitor the security of their homes (and which, in many cases, includes a wide variety of additional remote control and even home automation features).
AlarmSystemReport.com's expert reviewers noted in their final report that Protect America has an especially feature rich monitoring app that has scored very well in consumer satisfaction reports. Besides for boasting remote access and monitoring capabilities, experts also cited Protect America for delivering a highly secure protect—one of the best among all of the top home alarm systems reviewed—and for using equipment that was well rated for its reliability, overall quality, and specific quality related to maintaining Internet connection availability.
The review praised Protect America for maintaining a rather large list of cellular monitoring compatible monitoring equipment inventory from which customers can make selections. A sampling of the equipment choices includes recessed (hidden) door sensors, flood water detectors, carbon monoxide detectors, freeze sensors, and even panic pendants. Under the cellular monitoring plan, Customers can receive notifications whenever sensors or detectors are activated providing them with the time and any additional information available about the alarm event.
"Protect America is an old enough company—founded in 2011 in Round Rock, TX—to have established a strong reputation for itself but young enough that it still understands how to innovate and stay in touch with its most important stakeholders—its customers," said Steve Ordona, PR head at AlarmSystemReport.com, "They're really doing some great things in both the wireless and cellular monitoring, remote control, and home automation fronts, so we're excited to see where they go in the coming years with all of their research and development. It definitely helps that they're located in the same small town as Dell computers. Some of that tech savviness must wear off on them."
In addition to Protect America, a number of other companies in the cellular monitoring and remote access space have scored well so far in this year's annual rankings. Homeowners and home security shoppers can read more on AlarmSystemReport.com in the company's FrontPoint Security, LifeShield Security, Vivint Security, and ADT reviews.
About AlarmSystemReport.com
As one of the oldest, most well known, and highly respected consumer information and review companies in the home alarm and security system sector, AlarmSystemReport.com takes its role as an independent provider of alarm system reviews, home security recommendations, and other home security and alarm system information and reports very seriously. AlarmSystemReport.com may be best known for its publication of an annual listing of best overall home alarm system service providers, as well as for their categorical ranking of alarm companies in such areas as best wireless systems, best DIY home alarm systems, best cellular monitoring systems, and best security systems including home automation features.
###