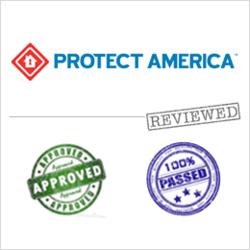 The 2013 Protect America review is more detailed than before and gives consumers even more information to help them make the right decision.
Chicago, IL (PRWEB) April 15, 2013
AlarmSystemReport.com issued an announcement today that it has completed its annual review of Protect America, a security and home alarm system equipment and monitoring service provider with national coverage, for its annual review and rankings of the best alarm system companies of 2013. AlarmSystemReport.com provides both regularly updated company reviews and report, as well as a comprehensive annual ranking of all of the leading home alarm system service providers in the United States. The Protect America review is available at AlarmSystemReport.com.
The annual ranking and review process begins early in the year when AlarmSystemReport.com hires a group of outside, independent expert consultants in the home security and alarm system field to design a process for determining which companies will be eligible for inclusion in the review and the final rankings. For alarm system companies to qualify, they typically must have a large customer base, an established reputation for providing reliable service, and a minimum ranking with the Better Business Bureau, Chamber of Commerce, or similar organization. Additionally, alarm companies must meet certain equipment requirements for inclusion in certain subcategories, including best wireless, DIY, cellular, and home automation security companies.
"We work really hard to ensure that our review process is fair but also rigorous," said Steve Ordona, public relations head at AlarmSystemReport.com. "We have a number of quantitative and qualitative standards, and several people look over everything before we make any final determinations. Overall, we want to error on the side of caution. We take our responsibility to help consumers and homeowners make the best choice in keeping their homes and families safe very seriously. And all of the alarm system companies out there—at least, all of the good ones—know who we are and know what our standards all. We've been very impressed with how these companies provide us with the detailed information that they do. Overall, all of the good companies understand the value of transparency. They know that their information and reputation speaks for itself if they're taking care of their customers."
This year's review of Protect America specifically cited the company for its innovative wireless alarm systems and cellular monitoring services. It also noted that Protect America continues to maintain a high level of customer service and to offer its long-term contract holders significant value at an affordable price. For more information, or to read additional Protect America, LifeShield Security, FrontPoint Security, Vivint Security, or ADT security reviews, visit AlarmSystemReport.com.
About AlarmSystemReport.com
AlarmSystemReport.com is a top consumer research, review, and advocacy organization whose objective is to provide factually correct, well-researched, nonbiased reports and analysis about the home security and consumer alarm system market and the security companies that serve operate within itg. The company's independent security and alarm system consultants, reviewers, and writers conduct ongoing research and evaluations of all of the top home alarm system companies with a focus on both quality and consistency of customer service and equipment performance, reliability, and ease of installation-- especially in the DIY, cellular and smart phone monitoring, and wireless alarm system niches. AlarmSystemReport.com also provides additional coverage of home automation system and home safety tips, all freely available to the public (without registration) on its website. All of AlarmSystemReport.com's home alarm systems reviews are conducted by independent experts with no financial relationship to any of the companies the site reviews.