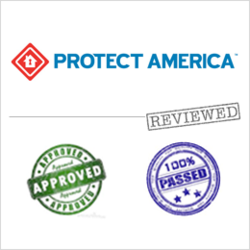 Protect America is a great all around home security system company and our experts are happy to recommend them to any consumer looking for great quality, reliability, and price.
Dallas, TX (PRWEB) April 12, 2013
The leading security system review site, SecuritySystemReviews.com, has finally revealed its Best Home Security Systems list for 2013. Among the companies that have made it to the shortlist, Protect America came in at second, beating all other security system companies in the market. According to the website's Protect America review, the company offers one of the lowest up-front costs and low monthly fees in the market to date.
Over recent years, home security systems have grown in demand because of the growing crime rates. With this, more and more companies that offer security services enter the market and promise to offer the best systems and technologies. Focused on offering consumers the latest in home security services, SecuritySystemReviews.com released this year's list of the best security systems to help consumers make the right choice in employing the right systems for their homes. It aims to provide consumers a guide on which service to use—one of which is Protect America.
One of the best features of Protect America is its affordability. According to SecuritySystemReviews.com, the security company offers one of the lowest up-front costs and monthly fees in the market. Setting itself apart from all other companies in the market, Protect America offers consumers free equipment packages. Clients can choose from five different packages with different sensor options, all of which come with zero up-front costs. It also offers one of the lowest monitoring, remote access and home automation system monthly fees in the market.
Even with its low monthly fees and zero up-front costs, Protect America still offers state-of-art wireless security system equipment. The service employs General Electric (GE) technology, making sure that the systems will be durable and dependable. Protect America makes use of GE's Simon XT control panel and Wireless Security Sensors. It also employs top of the line pan/ tilt security cameras, GPS vehicle tracking devices and X10 home automation systems.
The company has also shown great improvement in its customer service over recent years. It has been ranked number one in customer service by the Consumer Digest. Its customer service staff provides detailed and helpful support to clients, making troubleshooting a breeze.
"I chatted online with customer service and was very pleased. They answered my questions and got my problem resolved very quickly," Shanna from Keysville, GA.
With its great service, very affordable costs and reliable customer service, Protect America proves that they deserve a place on SecuritySystemReviews.com's Best Home Security Systems list.
For more details on Protect America and other security system companies on the list, visit SecuritySystemReviews.com.
About SecuritySystemReviews.com
A security system review website, SecuritySystemReviews.com, offers consumers the latest news on the best security systems in the market. Composed of a team of experts and professionals in the field, the website aims to provide balanced reviews, well-researched data and comprehensive reports on the industry's trends and services. With its reviews and "best" lists, the site hopes to help consumers make the right decision in employing a system for their home.
# # #