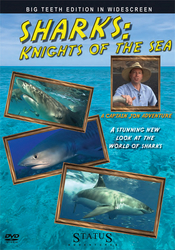 Everyone goes to the beach during the summer
West Palm Beach, FL (PRWEB) July 29, 2009 -
In an effort to push shark awareness beyond Discovery Channel's annual "Shark Week" beginning August 2009, adventure website CaptainJon.com and SharkTaskForce.com are preparing to release a series of videos to continue to help promote both shark awareness and ocean safety.
Status Productions and SharkTaskForce.com have 40 shark videos available for free on iTunes, and will be releasing even more beginning August 1, 2009.
"Everyone goes to the beach during the summer," says Captain Jon Executive Producer George C. Schellenger, a two-time Emmy Award winner. "They think about sharks, but do they know the facts? Misunderstanding, sensational programs and news have the capability to destroy these creatures."
Status Productions has spent nearly a decade working to get positive word out about sharks. In 2004, they produced Captain Jon's Shark Safari. Since that time, they've been working on Sharks: Knights of the Sea, A Captain Jon Adventure. It's available for purchase from CaptainJon.com and Amazon.com.
Jon Schellenger, George's brother and fellow shark diver, is co-host. "Sharks: Knights of the Sea explores how sharks help protect the ocean. It also explores how we can get in the water with them and get to know them first hand."
George can attest to that. He's been in the water with all different types of sharks, including 8 tiger sharks at one time. "That was one of the best days of my life. I spent nearly 6 hours underwater with the tigers, only coming back to the boat for more air. I never get tired of these animals and how beautiful they are. I know they are a wild creature, and I have complete and total respect for their awesome power." George carries a 50-pound underwater high-definition video rig. "We get some amazing images."
Sharks: Knights of the Sea is a DVD adventure featuring Jon and George as they travel around the world looking for white sharks, tiger sharks and lemon sharks. "I was able to get in the water with the world's experts, people who really understand these animals." George has also been to Fiji to dive with Indo Pacific Bull Sharks.
CaptainJon.com also offers free downloads of the what it considers to be the top 5 dive shark destinations, short video programs for iTunes that can be put on the iPhone, iTouch or iPod. "We want people to download these fun adventures - and show them to their friends," says Jon. "We want other people to be ambassadors for sharks and the ocean as well."
Recent reports show that because of the global downturn in the economy the price of shark fins has dropped. "But more work needs to be done," says George. "Just because something has fallen, doesn't mean it won't come back."
Sharks: Knights of the Sea, A Captain Jon Adventure; Captain Jon's Shark Safari; Captain Jon's Island Adventure; and Captain Jon Explores the Ocean are focused on the family to help all ages love and appreciate the sea and its amazing creatures. For more information on CaptainJon.com and Status Productions, contact George C. Schellenger, Executive Producer - (772) 812-4492.
# # #