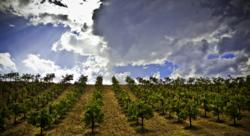 For us, it's a simple question of preserving existing vineyards and the remaining plantable acres in Temecula Valley... It's pretty heartbreaking to see farmers and hardworking local business owners being painted as anti-religion or anti-church.
Temecula, CA (PRWEB) August 21, 2012
Temecula Valley's vintners and winegrape growers have launched a petition asking the County of Riverside Planning Commission to protect viticultural land use and the region's unique "wine country" character against developments incompatible with wine and the related agro-tourism industry that produces more than 1000 local jobs and more than $6 million in sales tax revenue.
The petition was prompted by a public hearing scheduled for Wednesday, August 22 regarding the county's proposed Temecula Valley Wine Country Community Plan, also known as the 2020 Plan, which many vintners believe does not fulfill its stated mission to "preserve vineyard lands and to create an environment that encourages development of wineries with the goal of making the Temecula Valley Southern California Wine Country known and respected worldwide" [see: "Mission Statement" on http://www.socalwinecountryplan.org .
"Wine Country Zone" v. Plantable Acres:
A core issue in the proposed plan is the definition of "Wine Country" and what it means in terms of actual land use. The new plan proposes to "expand Wine Country to nearly 19,000 acres," which can be read as greatly increasing the size of wine country. However, local grape growers and vintners argue that the new Wine Country zone actually reduces available, plantable acres by allocating much of this zone to residential developments and equestrian uses.
"The 2020 Plan makes it seem as if it'll triple or quadruple vineyard land and wineries---but that's a total pipe dream because most of the 18,000 acres they're talking about are either already developed to housing, equestrian and wineries, or just plain aren't suitable for wine grape growing," says Ben Drake, owner of vineyard management company Drake Enterprises, which farms the majority of Temecula Valley's existing vineyards. "I know this valley better than just about anyone and I can tell you that realistically there are only about 1500 acres left of plantable land in Temecula Valley. And that's just not enough to sustain our existing wineries, much less to support the 105 wineries the County says are possible."
Because of the shortage of available wine grapes grown in Temecula Valley, some vintners also believe they are at risk of violating Riverside County zoning indicating "at least 75 percent of the grapes utilized in wine production and retail wine sales shall be grown or raised on site or within the county" [See: Citrus/Vineyard Zone, Article XIVb].
"In order to meet the 75 percent requirement, wineries must have access to enough locally-grown grapes to meet consumer demand. Vineyard shortage equals grape shortage," says David Bradley, owner and winemaker at Vindemia Winery. "I'm having to buy grapes from other parts of California just to be able to make enough wine to keep my business going. And that puts Temecula at risk of becoming a 'fake' wine country, where all we do is make wine from other people's grapes and call it 'Temecula wine.' "
County's History of Vineyard Loss:
Temecula Valley is not Riverside County's first example of viticultural interests being threatened by development pressures. Cucamonga Valley vineyards in Rancho Cucamonga was first planted in 1838 and once spanned over 20,000 acres---more than in Sonoma County and twice as many as Napa County. By the late 1960s, the Cucamonga area alone accounted for 98 percent of the 9.5 million gallons of wine produced in the Southern California wine district, which included the counties of Los Angeles, Orange, Riverside, San Bernardino, San Diego and Santa Barbara.
Today, most of the Cucamonga Valley's vast vineyard acreage has been lost to urban expansion. Only four of the area's original wine-growing families remain active, and the many of the nation's oldest vines have disappeared.
Calvary Chapel Expansion Project and Proposed School:
Controversy has arisen around a proposed Plot Plan submitted to the County by Calvary Chapel, which seeks to expand its existing modest facility to what some are calling a "mega church" containing a 50,000 square foot, two-story sanctuary; an approximately 32,000 square foot, two-story daycare and preschool through 8th grade school that would run five days per week; and 424 paved parking spaces that some vintners are concerned would interfere with water quality in the Santa Margarita River due to runoff.
"We've been shocked and disappointed to see how this whole land use issue has been hijacked by the Calvary expansion project," says Ray Falkner, owner of Falkner Winery, whose property is adjacent to the plots in question. "For us, it's a simple question of preserving existing vineyards and the remaining plantable acres in Temecula Valley, like they've done in Napa Valley and Sonoma. It's pretty heartbreaking to see farmers and hardworking local business owners being painted as anti-religious or anti-church simply because we're trying to prevent Temecula from turning into Rancho Cucamonga. Most of us are churchgoers ourselves, and are just blown away at some of the nasty propaganda floating around."
Temecula Valley vintners urge Riverside County planners to take a cue from Napa County, which recently issued a new general plan restricting "non-agricultural development to already developed areas." The Napa County plan entails, "Policies supporting agriculture include the long-standing 'right to farm,' which ensures that new residents and new users of land understand they inhabit an agricultural area where the viability of agriculture comes first" [See: http://www.countyofnapa.org/GeneralPlan/ . Temecula Valley's vintners will continue to implore Riverside County's planners to adopt similar planning principles to protect against further loss of agricultural land.
View the Temecula Valley vintners petition to Protect Wine Country online at: http://www.change.org/petitions/protect-wine-country#.
About the Temecula Valley Winegrowers Association:
Comprising 35 wineries and more than 60 wine growers, the Temecula Valley Winegrowers Association is a nonprofit regional organization dedicated to increasing awareness of the quality wines and wine grapes grown in the Temecula Valley and South Coast Appellations. Officially established in 1984, the Temecula AVA (American viticultural area) consists of 33,000 acres, of which approximately 1,300 acres are currently planted to commercial vineyards. Known as Southern California's wine country, the Temecula Valley is located in Riverside County just one hour from San Diego, Orange County and Palm Springs.
###