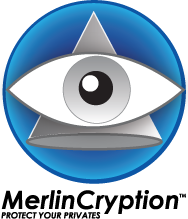 Say it all and tell nothing! Encryption secures private dialogue in live multi-user environments.
Austin, Texas (PRWEB) December 15, 2011
With the surge of chat usage and major corporations banning email for Facebook-style interface, MerlinCryption LLC releases Merlin4Chat™ unique ciphertext-generating software, specifically designed for protecting instant messaging. Special "2 for 1" introductory pricing puts it high on the gift list for friends, colleagues, family, and impossible-to-buy-for tech gear lovers.
Merlin4Chat tightly secures online chat with a simple-to-use interactive encryption application. With message capacity up to 1MB long, users can transfer entire text documents, if desired, in an instant message format. MerlinCryption's robust algorithm incorporates scalable encryption keys from 2000 bits up to 2 GB and supports any chat or email platform.
"These days, people stop and think before they blurt out sensitive information on the phone or from an office cubicle," says Paul "Prem" Sobel, MerlinCryption CTO, "Using Merlin4Chat, they can quickly relay their confidences back and forth, during the spoken conversation. It's a side-by-side discussion that exasperates hackers and eavesdroppers."
Not just a 'teen-thing,' chat has increasingly become the backbone for online customer support and a driver behind business negotiations. Routinely, intellectual property, trade secrets, and PII are unwittingly exposed in the dialogue boxes of VoIP, web-cast seminar discussions, and other multi-user environments. And, as news headlines underscore, an overwhelming amount of these indiscretions are intercepted and exploited.
Along with bulletproof protection, Merlin4Chat incorporates a fun element to the encryption mix. Instead of using a weak password-type key, users encrypt with a digital file such as a photo, DVD, or excel document. Younger users love the creativity and tech-savvy users immediately see the exponential security value of a scalable and discrete encryption key.
This breakthrough Key-in-a-File approach, called a CryptoFile™, is a signature element in MerlinCryption's radically different encryption platform. The technology is not subject to statistical analysis and not based on mathematical technique. It always produces a different encryption output, even when using the same key and data input.
Users can view the varying ciphertext results in a window. Both ciphertext and plaintext messages are hidden from over-the-shoulder viewers and passers-by.
"People like chat because its fast, automatic, and doesn't require the opening, closing, deleting, or archiving involved with email and documents," explains Sobel, "We created Merlin4Chat to emulate the desire for speed and ease… yet protect the content and privacy."
Even before last week's announcement by France's Atos to ban email to 74,000 employees, email use has declined for the under-34 age group. Recent metrics also show that top email providers have seen reduced visits among teens, citing chat and text as the communication of choice for anyone under 25.
"Our cultural shift to IM emphasizes the significant need to protect confidential dialogue by encrypting it," advocates Sobel.
Today through January 15, 2012, consumers can take advantage of introductory "buy one get one free" and special "6-pack" pricing on the MerlinCryption website.
About MerlinCryption LLC
A software technology company in Austin TX, MerlinCryption LLC develops invincible data security solutions that combine powerfully robust encryption products with surprising affordability and functional ease.
Leading edge MerlinCryption technology secures data-at-rest and data-in-motion, and pioneers innovative products to protect data-in-use and data-in-change. The unprecedented encryption protects file, email, instant messaging, password, and broadcast data as it is created, viewed, edited, shared, stored and moved around the Internet and around the world. Experience how MerlinCryption architecture is changing the way the world protects data.
# # #