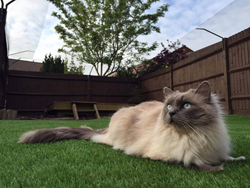 The people at ProtectaPet were brilliant and my boys are now happy and safe outdoors.
Stoke-on-Trent, UK (PRWEB UK) 12 June 2016
The attacker is believed to have killed once more after a headless cat was discovered by a city worker as she walked to Morden Station on Wednesday, June 1, 2016. It is believed that the cat killer is responsible for up to 50 pet deaths in London over the past year and the killer is still at large.
Word about the ProtectaPet patented cat enclosures, cat runs, and cat fences is spreading, which provide peace of mind and allow cats' access to the outdoors. ProtectaPet have experienced a huge spike in orders and interest as concerned cat owners look for ways to protect their pets from abuse.
Are Attacks on Cats on the Rise?
Cat owners across the country are becoming increasingly concerned about potential threats to their beloved feline friends. The Croydon cat killer is just one of the major concerns pet owners face. A recent Cats Protection survey showed that 44% of vets questioned had treated cats that had been attacked with air-powered riffles within the past 12 months, with 46% of these cases proving to be fatal. Just weeks after these details were released; one of Britain's oldest cats was put to sleep after being shot in the face and abdomen by mindless thugs in Worcestershire.
Jacqui Robinson, a recent customer of ProtectaPet, was shocked to discover her beloved cat had been attacked by a neighbour. Ms Robison said, "After having to move home due to intimidation and harassment from my neighbour after he threw a stone at my ragdoll resulting in the loss of sight in 1 eye (he was found guilty of animal cruelty in court). The people at ProtectaPet were brilliant and my boys are now happy and safe outdoors after being kept in for 8 months. Absolutely recommend this company and product."
Edward and Louise Du Carey shared their own experiences, "Having ProtectaPet in place for us has given us a peace of mind that we previously not experienced. We have had previous bad experiences with pets getting lost and being poisoned. Now that we have this solution in place, we can both sleep more easily at night knowing that our cats are safe and sound within our grounds and safe from being taken or poisoned. We would now not want to be without ProtectaPet to keep our pets safe."
Eve Davies, Director of Communications at ProtectaPet, explains "Our members of staff are animal lovers at heart and we hear very distressing stories of animal cruelty and neighborhood disputes from customers who are seeking ways to safeguard their beloved pets. When an incident is reported in regional news, we can see a surge in enquiries from the local area. It is very rewarding to hear from our happy customers - sometimes years after an installation - and to know the impact that we've had on their lives."
ProtectaPet are the leading cat containment experts in the UK. They provide multiple unobtrusive solutions designed to keep cats safe and have attracted many awards including 'Cat Product I Can't Live Without' two years running by readers of 'Your Cat' Magazine.