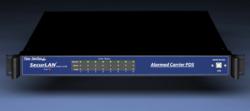 Enhanced PDS protection requirements for the federal market represents an opportunity to offer security solutions designed with cost savings and efficiency in mind.
(PRWEB) January 31, 2013
Leading Protected Distribution Systems manufacturers Fiber SenSys, Inc. and Holocom announced today that the U.S Navy and Army successfully evaluated the new HC508 and SL508 Alarm Processor Units (APU's) in San Diego, CA.
The tests were performed by members of the U.S. Navy/SPAWAR and U.S. Army CTTA offices and relate directly to technology solutions for Protected Distribution Systems (PDS).
"Enhanced PDS protection requirements for the federal market represents an opportunity to offer security solutions designed with cost savings and efficiency in mind," said Ed Tapanes, FSI CEO. "We are pleased to be engaged with the DOD Certifying Authorities for this important product evaluation," Tapanes added.
The 508 was tested with four cable carriers comprising Holocom 2" x 2" two-piece Secure Raceway, Holocom solid tube Secure Mini Dukt™, one-inch steel EMT and flexible interlocking armored fiber-optic cable.
The Fiber SenSys/Holocom co-branded HC508 and Fiber SenSys SL508 provide an additional layer of protection to hardened carrier protective distribution systems for government and other high-security networks. The 1U 508 fits a standard size rack and is capable of protecting eight zones of fiber optic or copper cable infrastructure. Each zone consists of single-strand sensing cable design, eliminating the need for loop-back cable in the cable carrier. The system also includes enhanced tuning and calibration software for the elimination of nuisance alarms.
Individuals requiring approvability for specific Protected Distribution Systems projects should contact the appropriate service CTTA office.
About Holocom
Holocom is the leading manufacturer of protective distribution systems (PDS) for SIPRNet and other networks transmitting highly sensitive data. The patented Holocom PDS provides a complete, end-to-end solution including services tailored to meet individual customer requirements. Holocom owns an IP portfolio protecting its secure enclosure systems which in turn protect mission-critical networks for all branches of the military, federal agencies and private networks across the globe. Holocom is headquartered in San Diego, CA.
Holocom, Inc. is jointly owned by Scripps Ventures, Inc. and Patriot Scientific Corporation. For more information, visit http://www.holocom.com.
Contact: Janet Lunn, Marketing Manager, 858-222-6430, jlunn(at)holocom(dot)com.
About Fiber SenSys
Fiber SenSys, Inc., an Optex Group Company, is the market leading manufacturer of fiber-optic intrusion detection solutions for government and military installations, airports, oil refineries, electrical substations, nuclear power plants and water purification & storage facilities. As the only fiber optic sensor solution that is PL-1 Nuclear Certified, Fiber SenSys products offer superior operations in the harshest environments. With simple low-voltage installation and designed for a 20 year lifespan, Fiber SenSys offers the lowest Total Cost of Ownership in the industry. In addition to keeping intruders out, Fiber SenSys intrusion detection systems can be used to protect the most important information and resources.
Fiber SenSys SecurLAN® has been evaluated and certified for Protected Distribution Systems (PDS) as the "Alarmed Carrier" under several DOD instructions and regulations.
For more information visit the company's website at http://www.fibersensys.com.
Contact: Tony Cardo, Director of Marketing, 503-726-4467, Tony(dot)Cardo(at)FiberSensys(dot)com