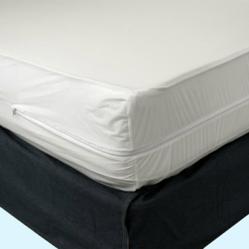 Indoor air quality has a huge impact on your health, especially on your respiratory system
Fulton, MD (PRWEB) February 20, 2013
Most people don't really think about indoor air quality. Pollution is something we assume takes place outdoors in the environment. Yet, indoor air quality can be 2 to 5 times more polluted than outdoor air, which is a big deal considering people spend up to 90% of their time indoors. According to the Environmental Protection Agency, indoor air quality is one of the top five environmental risks to public health.
That's why February has been designated National Care About Your Indoor Air month, a time for homes, schools, and businesses to think about and make improvements to the quality of their indoor air. And the Protective Bedding Store is here to help with a new tips sheet on improving one's indoor air quality. The tips range from checking for mold and mildew, testing your home for dangerous radon, and getting rid of dust mites, pet dander and other allergens.
To keep out allergens, the tips sheet recommends regularly vacuuming the floors, covering beds and pillows with a vinyl mattress cover, and regularly washing all fabrics. According to ProtectiveBedding.com's pharmacist Bryan Mercer, "Indoor air quality has a huge impact on your health, especially on your respiratory system. If you have any type of respiratory condition, such as asthma, then you need to pay careful attention to your home's air."
For camps, colleges, shelters and other organizations that may need large amounts of bedding, the Protective Bedding Store is offering bulk discounts. Not only do all orders over $75 come with free shipping, those over $300 get a 5% discount, those over $600 get a 10% discount, those over $1,200 get a 15% discount, and those over $1,800 get a 20% discount. Depending on how much bedding a place needs, that could be hundreds of dollars in savings. All discounts are calculated automatically at checkout.
So whether one owns a home or business, ProtectiveBedding.com encourages everyone to assess and improve their indoor air quality this month.
About ProtectiveBedding.com
Protective Bedding Store is America's one-stop shop for protective bedding, featuring products such as allergy bedding, waterproof bedding, and bedbug covers. Launched in 2004, Protective Bedding Store provides a wide assortment of quality bedding at discounted prices for families looking for ways to create the most protected and comfortable sleeping environment. The company also offers wholesale bedding for camps, boarding schools, homeless shelters, and other facilities. ProtectiveBedding.com is committed to serving families and businesses with the best bedding products at the lowest prices.