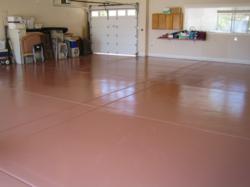 Once the protective floor coating has been applied, customers will see a "like new" finish on the area they protected.
Long Island, NY (PRWEB) July 19, 2012
Worldwide Industrial Enterprises, a leader in the protective floor coating industry, has created a Color by Numbers guide for commercial and residential customers looking to protect, seal or repair their floors. With no professional assistance required, customers have the power of protection in their hands along with these helpful tips Worldwide Industrial Enterprises has created for their satisfaction.
When it comes to providing the highest quality protective floor coating solutions, Worldwide Industrial Enterprises' Thundershield product can be used on everything from a homeowner's garage, a wooden deck, metal roof, industrial warehouse, automotive shops, bar and restaurant surfaces, gymnasium floors and much more. Each gallon of Thundershield product covers approximately 250 square feet or more depending on the surface condition.
According to Jim Roberts, a customer service representative at Worldwide Industrial Enterprises, The amount of coating needed to apply will vary.
"A concrete surface in brand new condition might yield 400 square feet per gallon where as an older concrete surface in poor condition might only yield 200 square feet per gallon," says Roberts. "The same principle would apply to a metal or wood surface as well."
Before customers use the protective floor coating, the customer service reps at Worldwide Industrial Enterprises strongly urge pressure washing surfaces such as wood or concrete. Metal surfaces require a primer before applying the protective floor coating products. Lastly, all surfaces should be bone dry before applying the coating after preparation.
Once the protective floor coating has been applied, customers will see a "like new" finish on the area they protected. According to Roberts, paint will normally dry within 24 hours of application depending on climate condition.
"If it's very hot and/or dry, the coating will dry more quickly and likely take about 10 hours to completely dry," says Roberts. "If it's cold and/or humid, there have been instances where it will take up to 30 hours to dry."
For more information or floor coating tips, please visit http://worldwideindustrialenterprises.com/ or call a customer service rep at 1-888-843-4717
About Worldwide Industrial Enterprises, Inc.
Worldwide Industrial Enterprises is an accredited commercial paint company that provides floor care solutions that change the way surfaces are protected, sealed and repaired. As a proud member of The Better Business Bureau and used by thousands of customers, their coating materials are trusted to provide only the highest degree of quality in flooring. Environmentally safe and chemical resistant, Worldwide Industrial's floor coating material provides the ultimate protection to concrete, metal and hardwood flooring in a safe, easy to use one step application.