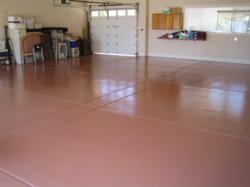 In the first quarter of 2012, the demand for WIE's commercial and residential coating products have increased 12-15%
(PRWEB) May 15, 2012
The protective floor coating industry is rebounding according to new numbers seen by Worldwide Industrial Enterprises Inc. , a leader in floor care solutions. In the first quarter of 2012, the demand for WIE's commercial and residential coating products have increased 12-15% reaffirming a recent PCI Magazine article predicting the steady increase of demand within the U.S. coatings market.
The article entitled, "Strong Demand Expected for U.S Coatings Market," was published earlier this year by Paint & Coatings Industry magazine. According to the article, the market is expected to expand strongly in both volume and value terms by increasing 7.8 percent annually to $26.2 billion in 2015.
The sales of coatings in manufacturing markets will expand at a respectable rate through 2015 thanks largely to renewed strength in the housing market according to the PCI article. As home-building activity rebounds from the recession-impacted 2005-2010 year period, so too will the trend toward sustainability. This will drive coatings manufacturers to invest in the development of innovative, higher-value formulations due to growing environmental concerns.
As a leader in the protective floor coating industry, Worldwide Industrial Enterprises Inc. knows a thing or two about the way surfaces are protected, sealed and repaired with their own high quality commercial and residential coating products. Their Thundershield product is environmentally safe and chemical resistant. Thundershield provides the ultimate protection when it comes to making concrete, steel and wood look like new. With a one step application, Thundershield is easy to use, yet durable making it the ideal product for both commercial and residential surfaces.
For a free quote, call 1-888-843-4717 or visit http://www.worldwideindustrialenterprises.com for more information.
About Worldwide Industrial Enterprises, Inc.
Worldwide Industrial Enterprises is an accredited commercial and residential paint company that provides floor care solutions that change the way surfaces are protected, sealed and repaired. As a proud member of The Better Business Bureau and used by thousands of customers, their coating materials are trusted to provide only the highest degree of quality. Environmentally safe and chemical resistant, Worldwide Industrial's floor coating material provides the ultimate protection to concrete, metal and hardwood surfaces in a safe, easy to use one step application.