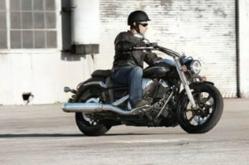 (PRWEB UK) 24 July 2012
OK, so it's been one of the wettest summers on record in the UK and the weather's been better for ducks than for bikers. But that's even more reason to make sure bikers are kitted out for summer riding so they can grab every opportunity to get out on their bikes and enjoy the sunshine and blue skies either abroad or at home, as soon as fair weather days arrive.
Alan Griffett at MotorCycle Direct stresses the importance of wearing the right gear even when the sun shines. He says, "There's a temptation for bikers to ditch their leathers when it's hot and sunny outside, and that's understandable. But it's important that they swap them for motorcycle clothing that will ensure rider and pillion are protected as well as keeping them cool and comfortable."
While t-shirts and shorts are definitely out, there is plenty of kit on the market that will do the job and the following tips from MotorCycle Direct are designed to help make the best choices.
Jacket – swap the heavy leather jacket for a textile one that's suitable for road riding. Textile jackets will feature mesh panels that allow air to flow through, keeping a rider cool. Choose a jacket that has CE armour throughout or which allows for added armour for extra protection. Some textile jackets are also waterproof or enable you to add a waterproof or thermal layer, which is ideal should the weather change.
Trousers – choose from textile trousers or road-riding jeans that are available with CE armour. Biker jeans are cooler to wear than leathers and look good whether on or off a bike - but be sure they have a tough Kevlar weave so as to offer abrasion protection if you came off your motorcycle.
Gloves – a year-round essential and there are plenty of lighter weight summer gloves on the market. Look for mesh panels on the back of the hand to keep them cool but still with plenty of protection on the palms and knuckle areas.
Boots – never ditch the leather boots for trainers or, even worse, sandals! Most retailers of motorcycle kit offer shorter, lighter weight boots that are perfect for summer riding and feature breathable materials as well as extra protection for toes, heels and ankles.
Undershirt – even under a textile jacket, it is easy to get hot and sweaty when wearing a standard cotton t-shirt. Try wearing a technical base layer with climate control and it will help to regulate body temperature and transfer moisture to the outside surface of the shirt where it can evaporate.
Helmet – it's tempting to wear an open-face helmet in the summer but it's not something that MotorCycle Direct would advise because it won't offer adequate protection. A flip-front model is a better compromise so you can open your helmet and get some fresh air once off the bike.
Here's hoping we do see some sunshine and dry weather in the UK soon! Follow these clothing tips from MotorCycle Direct and then, when it does arrive, you can stay safe and feel cool.
Happy summer riding!