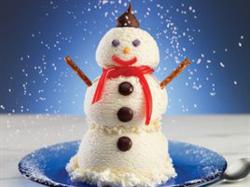 There's such a stigma ice-cream is to be avoided, either because it's too unhealthy or winter is too cold to enjoy it—but we feel much differently and encourage everyone to play with their food, make a fun, healthy snack and then share it with us.
(PRWEB) December 27, 2012
Jambo Production LLC is excited to share a new social contest, and invites fans to play along. The maker of the new protein ice cream, Jambo Production LLC is giving away 3 different prizes for the best Jambo Ice Cream snowman posted to the company's Facebook page or submitted to snowmen2013 (at) jamboicecream (dot) com.
Photo submissions will be judged by the audience; Facebook users and their friends will judge the submissions based on creativity, originality, and flat out fun. Snowmen with eccentric personalities are encouraged and getting hands dirty is required. The team suggests getting creative using healthy food items like halved strawberries for a hat, or toasted pine nuts to create a dapper row of buttons. Have friends, family and a support team vote for the best snow man!
"The healthier, the better," toyed Jambo founder Anatoly Derin. "There's such a stigma that ice-cream should be avoided, either because it's too unhealthy or that winter is too cold to enjoy it—but we believe differently: we're encouraging everyone to play with their food and make a fun, healthy snack and then share their creations with us."
To make an ice cream snowman, use an ice cream scoop to stack two or three or more round balls of frozen treat on top of one another. Let your imagination go wild! Consider using fruits that are vibrant in color, like blue berries or kiwis to create an interesting look that will photograph well.
The contest will run from now until January 20th, 2013, and the winner will be announced on February 1st. Follow Jambo Protein Ice Cream on Facebook for updates, more information, to see all the contest submissions and of course to vote for the best one!
1st place winner will receive $125 worth of delicious Jambo Protein Ice Cream
2nd place winner will get $50 worth of Jambo's flavored ice cream
3rd place winners, 5 in total, will receive a beautiful Jambo Protein Ice Cream gym towel
About Jambo Productions:
Jambo Protein Ice Cream is owned and developed by Jambo Production LLC. They are engaged in producing and marketing high quality, delicious and nutritious protein ice cream that fulfills the need of athletes and active lifestyle individuals. All Jambo products are produced with organic whey protein from pasture-fed cows; the highest-quality protein available that contains all the essential amino acids specifically for muscle recovery and repair. The team at Jambo Production LLC believes in their product and puts an emphasis on their effectiveness, safety and taste. For more information, please visit: http://www.jamboicecream.com/.