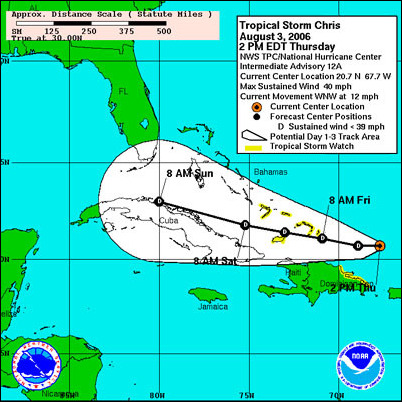 Although Chris may not seem like much of a threat, it's a threat that may never have even existed
Clearwater, FL (PRWEB) August 3, 2006
As the Dominican Republic cancels their tropical storm watch, the southern island group of the Bahamas prepare for total rainfall of one to three inches with isolated areas receiving up to five inches, and sustained wind gusts from 40 to 65 miles per hour (as reported by the National Hurricane Center Advisory #12.) "Although Chris may not seem like much of a threat, it's a threat that may never have even existed," reports Florida-based research company Proteus Blue Research Corporation.
On Florida's Gulf Coast, frequently threatened by these deadly storms, a not-for-profit organization is out to stop hurricanes from threatening life and property. " Project WindFall puts proven technology to work to disrupt dangerous tropical storms. These storms gather their energy from warm ocean water, and we're showing how it's possible to lower those temperatures just a few degrees to get back into a safe range – sea surface temperatures under 80 degrees means safer seas," says David Vondracek, Executive Director of Proteus Blue Research Corporation, the parent organization of Project WindFall.
Ocean temperatures have climbed in recent years, resulting in longer storm seasons, and stronger, more frequent hurricanes. The toll on lives, homes and businesses has been staggering: over 2,000 people died and over 700,000 were homeless, requiring government housing assistance, in the aftermath of last year's storms. The costs in financial terms are just as disastrous: the Marshall University Center for Business and Economic Research estimates that the total economic impact of Hurricane Katrina alone may exceed $150 billion.
"The death and destruction from last year's hurricanes are appalling. Knowing that we can do something about these devastating storms, we're doing everything we can to reach an effective, practical solution as fast as we can. We know that most people feel like we do: that if you know you can do something to help, you'd better do it – and the government's response last year showed us that we can't count on them to do it for us," says Vondracek.
For more information on Project WindFall you can visit their website at http://www.ProjectWindFall.org.
About Project WindFall:
Project WindFall is a program of Proteus Blue Research Corporation, a 501(c)3 not for profit organization with a duty to protect and enhance the vast resources of our oceans and work with responsible commercial partners on sustainable solutions.
Contact:
Frank Wells, Director of Development
Proteus Blue Research Corporation
727-688-2787
http://www.ProjectWindFall.org
# # #