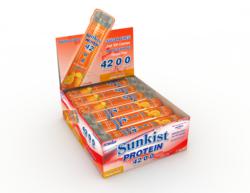 Whitehall, PA (PRWEB) January 08, 2012
BioBev LLC and Europa Sports Products announced the worldwide debut of the Sunkist brand protein shot. Sunkist Protein shots feature the original, proven protein formula from Protica Inc. and will be available exclusively from Europa Sports Products.
BioBev LLC, holder of the Sunkist Growers energy drink and protein drink licenses, inked a distribution deal with Europa Sports to exclusively distribute the Sunkist protein vialsfor the next twelve months. The vials are available in two sizes: 42 grams and 25 grams of protein per vial.
"We are excited to work with Europa, the nation's largest supplement distributor. We are equally excited to use Protica's formula because it's trusted and proven", says Tom Shaver, president of BioBev.
Protica's protein formula, Actinase®, is supported by university and hospital studies, and is in more protein-dense drinks than any other protein formulation on the market.
"In addition to the superior formulation offered by the Sunkist protein shots, the flavor profile is unmatched. Consumer feedback is overwhelmingly positive on both our protein and energy shots", Tom Shaver added.
Eric Hillman, CEO of Europa Sports, added, "Offering a premium brand like Sunkist, coupled with the proven efficacy of Protica's protein formula, is a fantastic combination for our retail customers."
The Sunkist protein shots are produced under a license with BioBev LLC and manufactured by Protica® Inc., makers of the first protein shot, Profect® and dozens of the world's smallest-sized protein and energy drinks. The shots will initially be available in fruit punch, grape and orange flavors.
For more information, please visit sunkistprotein.com
About Sunkist
Founded in 1893, Sunkist is America's oldest and largest citrus marketing cooperative, owned by thousands of citrus growers in California and Arizona. Over the years, Sunkist has built an international citrus marketing organization and a brand that is one of the best known and most respected in the world. Today Sunkist is a leading licensor with hundreds of products around the globe bearing the famous Sunkist trademark.
About BioBev
Founded by a team of highly experienced food and beverage marketing experts, BioBev, LLC is a company dedicated to creating new product concepts that deliver unique consumer benefits and experiences. BioBev is the creator and exclusive distributor for Sunkist Energy and Sunkist Protein, under a trademark license agreement from Sunkist Growers, Inc. To learn more about BioBev, please visit BioBev.com
About Europa
Based in Charlotte, NC, Europa Sports Products is a national distributor of sports supplements and an authorized distributor for over 200 industry leading product lines representing over 5,000 products. Europa ships from its seven locations and combined 350,000 square feet of warehouse space to specialty retailers, Internet sites, and health clubs, and FDM chains. To learn more about Europa Sports Products, please visit europasports.com
About Protica
Founded in 2001, Protica, Inc. is a research-based nutraceutical firm headquartered in Whitehall, Pennsylvania. In its privately owned 250,000 square foot facility, Protica manufactures capsulized foods, such as Profect® ready-to-drink liquid protein beverage, Isometric® ready-to-drink meal replacement shot, Fruitasia® ready-to-drink fruit and vegetable shot, Protein Gem® ready-to-eat healthy gelatin, Protein Twist® ready-to-eat protein candy, Pediagro® ready-to-drink children's meal replacement, Proasis® all natural ready-to-drink liquid protein shot, and many other brands in ready-to-drink and ready-to-eat form. To learn more about Protica please visit protica.com
###