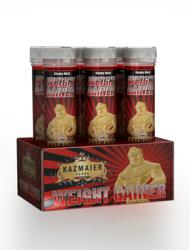 "An anorexic patient can consume a large amount of critical nutrition in only 500 calories from one serving of Weight Gainer without having to consume a large bulky meal"
Whitehall, PA (PRWEB) January 17, 2012
Protica has announced the release of a new product intended to help consumers who are looking to gain weight. The need to lose weight is a problem that millions of Americans face every day, however people do not often hear about the need to gain weight. In fact, there are many people who need to gain weight for medical reasons, as well as people who are looking to gain weight to reach their fitness goals. Appropriately named Weight Gainer, Protica's new product is intended to help people gain weight by consuming healthy, dense nutrition. Each serving of weight gainer contains 500 calories of dense nutrition including 50 grams of protein, 30 grams of complex carbohydrates, five grams of fiber, two servings of fruits and vegetables, and 27 vitamins and minerals in a 3.2 ounce shot. Weight Gainer's formulation allows consumers to consume the maximum amount of nutrients per fluid ounce.
Protica designed Weight Gainer to have several medical applications: Cancer patients who are undergoing chemo and radiation therapy can have trouble tolerating food and can become underweight. Jim Duffy, president and founder of Protica commented, "It is just as unhealthy to be underweight as it is to be overweight. When a person is underweight, they are at greater risk for malnutrition, which can cause many problems, and even lead to death. Weight Gainer's small size can be consumed in about three sips, making it easy for patients who have no appetite to consume needed nutrition." Duffy hopes this feature will allow cancer patients to regain weight, which will aid in overall recovery.
Protica feels that Weight Gainer will also become a helpful tool in the field of psychology. Psychological conditions like anorexia can in turn have adverse effects of people's physical health. Convincing an anorexic patient to eat is a very difficult process, and Jim Duffy hopes Weight Gainer will be a helpful tool for healthcare professionals who are treating anorexic patients. "An anorexic patient can consume a large amount of critical nutrition in only 500 calories from one serving of Weight Gainer without having to consume a large bulky meal," says Duffy.
There are also people who are not suffering from an illness but are still looking to gain weight. Bodybuilders and those who weight train need to make sure that they burn calories but gain weight in the form of muscle. Weight Gainer's 500 calories and 50 grams of protein per serving provide weight lifters with a large amount of healthy, weight gaining nutrients that will stimulate lean weight gain and muscle growth following a training session.
About Protica
Founded in 2001, Protica, Inc. is a research-based nutraceutical firm headquartered in Whitehall, Pennsylvania. In its privately owned 250,000 square foot facility, Protica manufactures capsulized foods, such as Profect® ready-to-drink liquid protein beverage, Isometric® ready-to-drink meal replacement shot, Fruitasia® ready-to-drink fruit and vegetable shot, Protein Gem® ready-to-eat healthy gelatin, Protein Twist® ready-to-eat protein candy, Pediagro® ready-to-drink children's meal replacement, Proasis® all natural ready-to-drink liquid protein shot, and many other brands in ready-to-drink and ready-to-eat form. To learn more about Protica please visit http://www.protica.com
###