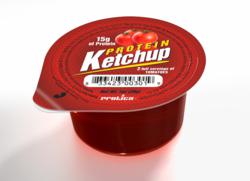 If the ketchup I'm eating with my fries is also providing me with 2 servings of vegetables and 15 grams of protein, I feel a lot better -- mentally and physically -- about eating my favorite junk food
Whitehall, PA (PRWEB) January 20, 2012
Protica has launched the first all natural, protein fortified ketchup. Protein Ketchup is designed to be a healthy alternative to traditional ketchups available on the market. Protein Ketchup contains less than half the sugar content as the leading ketchup brands. Protein ketchup also contains two servings of vegetables and 15 grams of Protein per serving, versus the leading ketchup on the market which contains no protein.
Protica hopes that their new product will help consumers eat a healthier diet even when they are consuming a less-than-nutritious meal. "I love to eat French fries and dip them in ketchup. Unfortunately, it's not very healthy for me. But if the ketchup I'm eating with my fries is also providing me with 2 servings of vegetables and 15 grams of protein, I feel a lot better -- mentally and physically -- about eating my favorite junk food," says Jim Duffy, president and founder of Protica.
Duffy wanted to fortify Ketchup with protein in order to provide a product that would help to balance out the carbohydrate- and fat-heavy foods like French fries. Duffy explains that, "When you eat French fries and ketchup, you are consuming fats and sugars, which results in high caloric intake and fat storing. But, if you eat those same fries with ketchup that is low in sugar and high in protein, you are helping to reduce the insulin surge that leads to fat storage, and you're balancing the carbohydrates and fat with high quality protein. The result is that your metabolism speeds up, and your body processes and burns the calories from those French fries more efficiently."
Duffy does not claim that eating Protica's Protein Ketchup will make a plate full of French fries into a healthy well balanced meal. But, he knows that Protein ketchup will help consumers obtain vegetables and protein while eating what has long been considered nutritionally-void foods, like French fries.
Along with their nutrient-forfeited snacks like the Protein Twist, a gummy candy, and Protein Gem, a gelatin snack, Protica hopes that Protein Ketchup will help consumers change the way they eat. Perhaps most importantly, they believe that these product types will help consumers include more nutritional foods in their diet without giving up their favorite foods like candy, ketchup, and French fries.
About Protica
Founded in 2001, Protica, Inc. is a research-based nutraceutical firm headquartered in Whitehall, Pennsylvania. In its privately owned 250,000 square foot facility, Protica manufactures capsulized foods, such as Profect® ready-to-drink liquid protein beverage, Isometric® ready-to-drink meal replacement shot, Fruitasia® ready-to-drink fruit and vegetable shot, Protein Gem® ready-to-eat healthy gelatin, Protein Twist® ready-to-eat protein candy, Pediagro® ready-to-drink children's meal replacement, Proasis® all natural ready-to-drink liquid protein shot, and many other brands in ready-to-drink and ready-to-eat form. To learn more about Protica please visit http://www.protica.com
###