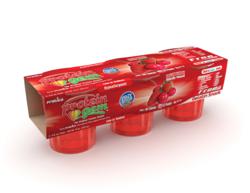 Gem's flavors satisfy my craving for something sweet, and the protein gives me a feeling of energy to get me through the day
Whitehall, PA (PRWEB) January 23, 2012
Protica has launched a new product designed to be a healthy alternative to traditional desserts. Protein Gem® is a gelatin snack that is shelf-stable and available in six fruity flavors. Each six-ounce cup of Protein Gem contains 25 grams of protein, one serving of fruit, and five grams of fiber.
Gem is intended to replace other sweet, after meal foods that are commonly unhealthy. Protica hopes consumers will be able to participate in a weight loss diet while still being able to enjoy their favorite treats. Gem's nutritive content, including a serving of fruit and 25 grams of protein, will help increase a dieter's metabolism when eaten in place of high caloric desserts. The protein content in Gem will also allow consumers to feel full for longer periods of time.
Many muscle building workouts suggest that a person eat a meal following a workout. For many, this proves to be difficult because of the time it takes to prepare a meal as well as the logistics of eating a meal immediately after leaving a gym or health club. Protica feels they have an answer this dilemma. Gem can be stored and consumed at any temperature so avid exercisers can keep a six-ounce cup of Gem in their gym bag to be consumed post workout. The nutritive value of Gem was designed to meet the post workout requirements of most training regimens.
Protein Gem's heat- and cold-stable attributes allows for it to be stored in an office desk, just as easily as it can be stored in the refrigerator and consumed at any time. Protica's president and founder, Jim Duffy, hopes Gem will be adopted as a midday snack for busy professionals. "Around 2:30 I usually get hungry for something sweet to help me get through the day. I sometimes find myself reaching for a candy bar or a soda at the vending machine. I designed Gem to help avoid those high sugar and calorie snack cravings. Gem's flavors satisfy my craving for something sweet, and the protein gives me a feeling of energy to get me through the day," commented Duffy. Duffy hopes Protein Gem becomes a healthy alternative to dessert and sweet snacks, allowing people to eat a healthier diet without giving up the foods they enjoy.
About Protica
Founded in 2001, Protica, Inc. is a research-based nutraceutical firm headquartered in Whitehall, Pennsylvania. In its privately owned 250,000 square foot facility, Protica manufactures capsulized foods, such as Profect® ready-to-drink liquid protein beverage, Isometric® ready-to-drink meal replacement shot, Fruitasia® ready-to-drink fruit and vegetable shot, Protein Gem® ready-to-eat healthy gelatin, Protein Twist® ready-to-eat protein candy, Pediagro® ready-to-drink children's meal replacement, Proasis® all natural ready-to-drink liquid protein shot, and many other brands in ready-to-drink and ready-to-eat form. To learn more about Protica please visit http://www.protica.com
###