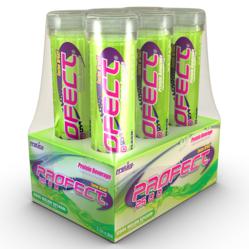 Profect can help diabetes patients obtain important nutrients between meals and lessen the chance for insulin spikes
Whitehall, PA (PRWEB) January 26, 2012
Protica has announced that their recently launched product, Profect® protein shot, can be of benefit to those suffering from diabetes. Profect's formulation was designed to meet the needs of medical patients including those suffering from diabetes who are on special diets.
Every serving of Profect contains 25 grams of protein, zero sugars, zero carbohydrates, and only 100 calories. These nutritional attributes are ideal for diabetes patients who are following a specialized diet, especially those concerned with the glycemic index of their foods. Many diabetes patients follow a diet that calls for a strict caloric intake to be maintained on a daily basis, and Profect's 100 calories per serving fits into such diets. Along with its low caloric content, Profect also contains zero sugars, which is a critical feature to diabetes patients.
Many diabetes patients follow a diet that calls for several small meals throughout the day instead of the three large meals that are typically consumed. The reason for this eating regimen is that diabetes patients who allow themselves to go for long periods of time without eating and then eat a large meal can experience a detrimental effect on their condition. Negative effects from this kind of eating pattern can include insulin spikes, which can make diabetes symptoms worse. Profect can help diabetes patients obtain important nutrients between meals and lessen the chance for insulin spikes.
A patient's weight can greatly affect the symptoms of diabetes. Many doctors suggest a patient begin a weight loss program as part of their treatment. Protica knows that Profect can help patients in their weight loss efforts. Profect's high protein content can help to speed metabolism and help the body to burn calories more efficiently. Along with speeding metabolism, Profect can help decrease insulin spikes and help a patient eat less and feel full longer when taken before a meal. Profect can also help patients begin an exercise regimen. When taken before exercising, the high protein content in Profect provides a sustained energy boost that can help a patient get through a workout.
Protica hopes that patients suffering from diabetes will benefit from adding Profect to their diet and exercise regimen by decreasing the risk of insulin spikes, helping patients to lose weight, and providing extra energy for exercise.
About Protica
Founded in 2001, Protica, Inc. is a research-based nutraceutical firm headquartered in Whitehall, Pennsylvania. In its privately owned 250,000 square foot facility, Protica manufactures capsulized foods, such as Profect® ready-to-drink liquid protein beverage, Isometric® ready-to-drink meal replacement shot, Fruitasia® ready-to-drink fruit and vegetable shot, Protein Gem® ready-to-eat healthy gelatin, Protein Twist® ready-to-eat protein candy, Pediagro® ready-to-drink children's meal replacement, Proasis® all natural ready-to-drink liquid protein shot, and many other brands in ready-to-drink and ready-to-eat form. To learn more about Protica please visit http://www.protica.com
###