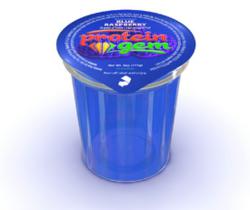 Protica designed Protein Gem to help dieters maintain their calorie count while still felling full and obtaining vital nutrients
Whitehall, PA (PRWEB) January 31, 2012
Protica has added a new product to its line that is designed to help people on a calorie counting diet. Protein Gem® is a gelatin snack that is intended to help replace snacks that are typically unhealthy, with snacks that have a high nutritional value. For consumers on a calorie counting diet, it is important that every calorie consumed be comprised of healthy nutrients. Protein Gem addresses this challenge by providing a large amount of nutrition in proportion to its 130 calories per serving.
For many people who are attempting to lose weight, it is important to know how many calories comprise their daily diet. As a rule for those trying to maintain their current weight, a diet for an average adult should have between 1,500 and 2,000 calories daily, those trying to lose weight should consume between 1,250 and 1,500 calories. It is easy to go over that caloric intake, so it is important to plan meals accordingly in order to stay within this calorie range on a daily basis. Protica designed Protein Gem to help dieters maintain their calorie count while still felling full and obtaining vital nutrients.
Protein Gem contains 25 grams of protein, one serving of fruit, five grams of fiber, and only 130 calories. Gem's formulation provides a lasting sense of fullness that will help dieters eat less. Many people find that if they only eat three meals a day, they are hungry in between meals. Gem provides a healthy between-meal snack that contains few calories compared to its nutritional content. This allows a dieter to enjoy a snack that provides a lasting sense of fullness along with important daily nutrition.
Many diets suggest that instead of consuming three large meals every day that a dieter should instead eat six smaller meals. The idea behind this method is that the dieter is less likely to snack in between meals. Also, when healthy foods are consumed in smaller amounts several times throughout the day, metabolism is increased and calories are burned more efficiently. Gem can be used as one of these small meals consumed throughout the day. Gem's high protein content coupled with its other nutrients can help to speed metabolism and calorie burn. Protica believes that Gem, along with the rest of the Protica nutritional product line, will be a valuable aid to people on a calorie counting diet, as well as to anyone concerned with eating a healthy diet.
About Protica
Founded in 2001, Protica, Inc. is a research-based nutraceutical firm headquartered in Whitehall, Pennsylvania. In its privately owned 250,000 square foot facility, Protica manufactures capsulized foods, such as Profect® ready-to-drink liquid protein beverage, Isometric® ready-to-drink meal replacement shot, Fruitasia® ready-to-drink fruit and vegetable shot, Protein Gem® ready-to-eat healthy gelatin, Protein Twist® ready-to-eat protein candy, Pediagro® ready-to-drink children's meal replacement, Proasis® all natural ready-to-drink liquid protein shot, and many other brands in ready-to-drink and ready-to-eat form. To learn more about Protica please visit http://www.protica.com
###