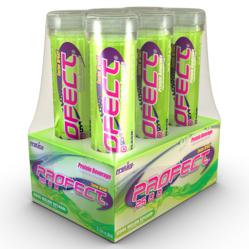 Protica believes that Profect can be a valuable aid in helping patients with dementia obtain important nutrients that may help slow the onset of dementia in some patients
Whitehall, PA (PRWEB) February 03, 2012
Protica has announced that their product, Profect® can benefit some patients suffering from dementia. According to the Mt. Sinai Journal of Medicine, dementia is a general loss of cognitive abilities, including impairment of memory as well as disturbed planning, organizing and abstract thinking abilities. There are many causes of dementia. For some, dementia syndrome is completely reversible, and Protica is confident that Profect may help patients avoid some causes of dementia.
Nutrition plays an important role in the aging process, and Profect was designed to supply essential nutrition to medical patients including those with dementia. There are many nutrition-related risk factors associated with dementia. Deficiencies in some essential nutrients such as vitamins C and E, as well as folic acid, are possible risk factors. Other nutrition-related disorders such as hypercholesterolaemia, hypertriacylglycerolaemia, hypertension, and diabetes can also be nutrition-related risk factors. These risk factors can be present for a long time before cognitive impairment becomes evident. Some believe there is a possible link between nutrient intake and cognitive impairment that may inhibit or delay the onset of dementia. Protica believes that Profect can be instrumental in helping patients address these nutrient related risk factors and in turn help to slow the onset of dementia.
Patients with dementia can be at risk of developing protein-energy malnutrition because of poor food intake and increased energy requirements. Each serving of Profect contains 25 grams of protein and the full spectrum of water-soluble vitamins. This high amount of nutrients per serving can help patients obtain necessary nutrients resulting in increased energy levels. Diet can play an important role in the prevention of dementia through effects on blood pressure and other nutrition-related risk factors. Control of risk factors by including more nutrients in the diet may also prevent further progression of the dementia.
Patients with dementia may have difficulty in swallowing. Each serving of Profect is less than three fluid ounces, allowing patients to obtain critical nutrition in only a few sips. Profect contains a blend of three proteins: collagen, whey, and casein. Casein is a milk protein and has the ability to form a gel or clot in the stomach. The ability to form this clot makes it very efficient in nutrient supply. The clot can provide a sustained slow release of amino acids into the blood stream, sometimes lasting for several hours. Protica is confident that their protein formulation that includes casein can thus increase the amount of energy delivered to the patient in a time-released fashion.
Protica believes that Profect can be a valuable aid in helping patients with dementia obtain important nutrients that may help slow the onset of dementia in some patients.
About Protica
Founded in 2001, Protica, Inc. is a research-based nutraceutical firm headquartered in Whitehall, Pennsylvania. In its privately owned 250,000 square foot facility, Protica manufactures capsulized foods, such as Profect® ready-to-drink liquid protein beverage, Isometric® ready-to-drink meal replacement shot, Fruitasia® ready-to-drink fruit and vegetable shot, Protein Gem® ready-to-eat healthy gelatin, Protein Twist® ready-to-eat protein candy, Pediagro® ready-to-drink children's meal replacement, Proasis® all natural ready-to-drink liquid protein shot, and many other brands in ready-to-drink and ready-to-eat form. To learn more about Protica please visit http://www.protica.com
###