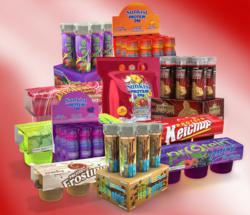 Protica's snacks are designed to be healthy alternatives to snacks that people already enjoy eating
Whitehall, PA (PRWEB) February 29, 2012
Protica has announced that they will be providing nutritional snacks and beverages to the Cooper Clinic Health and Nutrition Expo held at the at Cooper Fitness Center in Dallas, Texas on March 5th. The event is being held in conjunction with National Nutrition Month and will focus on making informed food choices. Protica will be providing samples of their nutritional snacks and beverages to event attendees.
Attendees will be sampling Protica's nutritional snacks, Protein Gem, a gelatin snack and Protein Twist, a protein gummy candy. The Nutrition Expo will focus on the importance of making informed food choices and developing sound eating and physical activity habits. Protica's snacks are designed to be healthy alternatives to snacks that people already enjoy eating. Twist is designed to be a healthy alternative to gummy candies. Unlike other gummy candies on the market, Protein Twist contains almost no sugar while still maintaining the same sweet taste of sugary candies. In place of sugar, Protein Twist contains 15 grams of protein, one full serving of fruit, and two grams of fiber. Another healthy snack alternative is Protein Gem®, a gelatin snack available in six fruity flavors. Each six-ounce cup of Protein Gem contains 25 grams of protein, one serving of fruit, and five grams of fiber. Gem and Twist follow in the theme of the event by encouraging people to make healthy food choices.
Protica's nutritional beverages will also be available for attendees to try. Along with Profect, the original protein shot, and Proasis, the original all natural protein shot; samples of Protica's meal replacement shot, Isometric, and their fruit and vegetable shot, Fruitasia will also be available for health enthusiasts to try. Isometric meal replacement is designed to provide all the nutrients of a healthy meal in a compact, 3-ounce shot. Fruitasia contains an entire day's recommended amount of fruits and vegetables in a ready-to-drink three-ounce shot.
About the Cooper Clinic Nutrition Expo
The Cooper Clinic Nutrition Expo is held in honor of National Nutrition Month, a nutrition education and information campaign created by the Academy of Nutrition and Dietetics. This year's theme is "Get Your Plate in Shape," and focuses on making informed food choices. The event features healthy cooking demonstrations by Cooper Clinic registered dieticians, healthy product sampling, a meet and greet with healthy cooking author, Cindy Kleckner, RD, LD, and other nutrition education programming.
About the Cooper Clinic
Cooper Clinic, a Cooper Aerobics company based at the world-renowned Cooper Aerobics Center in Dallas, helps patients Get Cooperized™ by giving them an in-depth picture of their health and an action plan to improve it. A leading preventive medicine facility offering same-day results, Cooper Clinic provides comprehensive physical exams, cardiology, breast health, preventive and cosmetic dermatology, gastroenterology, imaging and nutrition services. Founded in 1970 by preventive medicine pioneer and "father of aerobics" Kenneth H. Cooper, MD, MPH, Cooper Clinic has seen more than 100,000 patients and performed more than 265,000 physical exams. For more information call 866.906.2667 (COOP) or visit cooper-clinic.com
About Protica
Founded in 2001, Protica, Inc. is a research-based nutraceutical firm headquartered in Whitehall, Pennsylvania. In its privately owned 250,000 square foot facility, Protica manufactures capsulized foods, such as Profect® ready-to-drink liquid protein beverage, Isometric® ready-to-drink meal replacement shot, Fruitasia® ready-to-drink fruit and vegetable shot, Protein Gem® ready-to-eat healthy gelatin, Protein Twist® ready-to-eat protein candy, Pediagro® ready-to-drink children's meal replacement, Proasis® all natural ready-to-drink liquid protein shot, and many other brands in ready-to-drink and ready-to-eat form. To learn more about Protica please visit http://www.protica.com
###