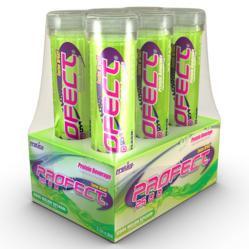 Protica is confident that Profect can be a valuable dietary aid for those sedentary individuals who may not be getting the proper amount of daily protein
Whitehall, PA (PRWEB) March 06, 2012
Protica has announced that their newly released protein shot, Profect®, can provide important nutrients to help improve the life of sedentary people. While the value of protein in diet has been accepted and promoted within the athletic community, it has been less well disseminated within the sedentary population. Protica believes their newly released protein shot, Profect, can help improve the health of sedentary Americans by increasing usage and compliance.
According to the President's Council on Physical Fitness and Sports, one in four Americans live a sedentary lifestyle. The council defines sedentary as those who undertake less than half an hour of moderate physical activity per day. Each serving of Profect contains 25 grams of protein, zero fat, zero carbs, zero sugar, and 100 calories. This high concentration of protein can provide a natural feeling of energy. Individuals who would like to get more physical activity but are having trouble finding the motivation may find that using Profect before exercising will provide extra energy to make it through a workout.
Protica is confident that Profect can be a valuable dietary aid for those sedentary individuals who may not be getting the proper amount of daily protein. Next to water, protein is the body's most prevalent substance. Protein is the essential building block for muscle and tissue, and vital for the functioning of critical systems, such as digestion. Protein even helps regulate and control hormones and chemicals that influence mood and coping ability; something that has an impact for all people, regardless of physical exercise regimen. Protica believes that incorporating Profect into a daily eating regimen can help a sedentary consumer obtain the necessary amount of dietary protein.
Along with helping to increase physical activity and improving diet, Protica believes Profect can be a powerful weight loss tool. Consuming a serving of Profect before a meal can help a person eat less and feel full longer. The high amount of protein in Profect can help to speed a person's metabolism and burn the calories from a meal more efficiently.
Protica believes that sedentary individuals can find many health benefits by including Profect in their daily diet. The high amount of protein per serving in Profect can help users have more energy, exercise more, eat less, and lose weight.
About Protica
Founded in 2001, Protica, Inc. is a research-based nutraceutical firm headquartered in Whitehall, Pennsylvania. In its privately owned 250,000 square foot facility, Protica manufactures capsulized foods, such as Profect® ready-to-drink liquid protein beverage, Isometric® ready-to-drink meal replacement shot, Fruitasia® ready-to-drink fruit and vegetable shot, Protein Gem® ready-to-eat healthy gelatin, Protein Twist® ready-to-eat protein candy, Pediagro® ready-to-drink children's meal replacement, Proasis® all natural ready-to-drink liquid protein shot, and many other brands in ready-to-drink and ready-to-eat form. To learn more about Protica please visit http://www.protica.com