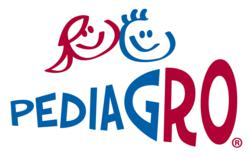 using a nutritional product like Pediagro can help children achieve a well balanced diet and avoid or reverse childhood obesity
Whitehall, PA (PRWEB) March 09, 2012
Protica has announced that its newly released children's nutrition and vitamin shot, Pediagro®, was designed to help fight childhood obesity. Pediagro is a three-ounce drink designed to provide children with their daily requirement of vitamins along with protein, fruit, and fiber. Protica formulated Pediagro to supplement the essential daily nutrients that children need to grow and maintain a healthy weight.
Protica is confident that Pediagro will help to decrease the risk factors associated with childhood obesity. Those suffering from childhood obesity run the risk of developing serious medical conditions later in life including heart disease, high cholesterol, high blood pressure and type 2 diabetes. Along with the physical health risks that come along with childhood obesity, there can be psychological and emotional consequences such as social ridicule, alienation and low self esteem. Protica believes that using a nutritional product like Pediagro can help children achieve a well balanced diet and avoid or reverse childhood obesity.
Pediagro's formulation consists of a combination of protein, fruit, fiber, and vitamins in proportions that are appropriate for children age two and up. "Raising healthy, happy children is the most important and challenging job in the world. Parents have a lot of things to think about when it comes to the health of their children, and we want to make it easier for parents to ensure their children are getting the nutrients they need to grow and develop," remarked Jim Duffy, president and founder of Protica. Duffy believes that including Pediagro as part of a healthy diet will help to stave the risk of childhood obesity.
Each Pediagro serving contains 15 grams of protein, one serving of fruit, five grams of fiber, 27 vitamins and minerals, and zero grams of fat. Protica developed six fruit flavors intended to appeal to the taste buds of young children. These flavors include green apple, purple grape, and orange tangerine. Duffy designed the favors to appeal to children's taste in an effort to help children understand that eating a healthy diet can still taste good.
Duffy is sure that children will like the taste, and he believes parents will appreciate the value in Pediagro's compact, three-ounce, ready-to-drink package. He also thinks parents will feel good about providing a good tasting healthy snack to their children. "I have two young girls, and trying to get them to take a multivitamin everyday can be a challenge. But a good tasting, sweet, fruity drink that they enjoy, which also contains vitamins and tons of good nutrition, makes it a lot easier to convince your kids to take it!" Duffy commented. Protica is confident that Pediagro's good taste and healthy ingredients will become a favorite for both kids and parents while helping to prevent childhood obesity.
About Protica
Founded in 2001, Protica, Inc. is a research-based nutraceutical firm headquartered in Whitehall, Pennsylvania. In its privately owned 250,000 square foot facility, Protica manufactures capsulized foods, such as Profect® ready-to-drink liquid protein beverage, Isometric® ready-to-drink meal replacement shot, Fruitasia® ready-to-drink fruit and vegetable shot, Protein Gem® ready-to-eat healthy gelatin, Protein Twist® ready-to-eat protein candy, Pediagro® ready-to-drink children's meal replacement, Proasis® all natural ready-to-drink liquid protein shot, and many other brands in ready-to-drink and ready-to-eat form. To learn more about Protica please visit http://www.protica.com