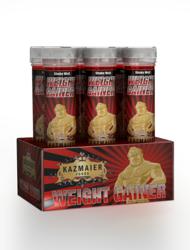 We are thrilled and very thankful to be included in Splash Magazine's Mother's Day Gift Guide and especially honored that our Weight Gainer product was chosen for its own article
Whitehall, PA (PRWEB) March 14, 2012
Protica is pleased to announce that their Weight Gainer shot has been featured in a standalone article in Splash Magazine. Weight Gainer, along with Protica's entire product line were chosen to be included among 55 products featured in Splash Magazine's Mother's Day Gift Guide. Amongst the products included in the gift guide, a limited number of select products are chosen to be featured in their own standalone article; Weight Gainer was one of those selected.
Splash Magazine's gift guide features unique entertainment, food and beverage, technology, style and fashion, home and garden, health and beauty, and travel gift ideas. Splash magazine has local magazine's in 21 cities including, Amsterdam, Atlanta, Barcelona, Bangkok, Boston, Chicago, Dallas, Denver, Detroit, Hawaii, Las Vegas, London, Los Angeles, Miami, New York, Paris, San Diego, San Francisco, Tokyo, Toronto and Washington D.C. Protica is pleased to have their products chosen to be featured in the Mother's Day gift guide and even more so to have Weight Gainer featured in its own article.
Protica's Weight Gainer, is the world's first shot-sized beverage intended to help people gain weight by consuming healthy, dense nutrition. It was developed for Bill Kazmaier, three-time World's Strongest Man and nutrition activist. Each serving of weight gainer contains 500 calories of dense nutrition including 50 grams of protein, 30 grams of complex carbohydrates, five grams of fiber, two servings of fruits and vegetables, and 27 vitamins and minerals in a 3.2 fluid ounce shot. Weight Gainer's formulation allows consumers to consume the maximum amount of nutrients per fluid ounce.
Bodybuilders and those who weight train need to make sure that they burn calories, yet gain weight in the form of muscle. Weight Gainer's 500 calories and 50 grams of protein per serving provide weight lifters with a large amount of healthy, weight gaining nutrients that will stimulate lean weight gain and muscle growth following a training session.
"We are thrilled and very thankful to be included in Splash Magazine's Mother's Day Gift Guide and especially honored that our Weight Gainer product was chosen for its own article," commented Jim Duffy, president and founder of Protica.
The Weight Gainer article can be seen at http://www.lasplash.com/publish/health_and_beauty_goodies/weight-gainer-shot.php
About Bill Kazmaier
Bill Kazmaier is the former reigning World's Strongest Man from 1980, 1981 and 1982. After retiring from powerlifting, Bill began a lifelong mission to educate children about healthy eating. Bill frequently speaks to young audiences at schools and other venues throughout country. Bill is also a regular commentator on ESPN for World's Strongest Man broadcasts.
About Protica
Founded in 2001, Protica, Inc. is a research-based nutraceutical firm headquartered in Whitehall, Pennsylvania. In its privately owned 250,000 square foot facility, Protica manufactures capsulized foods, such as Profect® ready-to-drink liquid protein beverage, Isometric® ready-to-drink meal replacement shot, Fruitasia® ready-to-drink fruit and vegetable shot, Protein Gem® ready-to-eat healthy gelatin, Protein Twist® ready-to-eat protein candy, Pediagro® ready-to-drink children's meal replacement, Proasis® all natural ready-to-drink liquid protein shot, and many other brands in ready-to-drink and ready-to-eat form. To learn more about Protica please visit http://www.protica.com