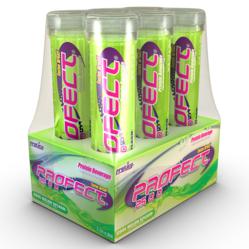 The high amount of protein in each serving of Profect can help in wound closure, improving immune responses, preventing infections or sepsis, and preventing immediate and late complications
Whitehall, PA (PRWEB) March 15, 2012
Protica is pleased to announce that its protein shot, Profect®, can be used to aid patients recovering from surgery. Profect was designed with the needs of medical patients in mind, including the needs of patients following surgery.
Successful recovery from a surgical intervention depends on many factors, and post surgical nutritional support is one of these. Profect was designed to meet the nutritional needs of post-surgery patients. Post surgical nutrition should be initiated as soon as possible, and Profect is easy and convenient to begin to use. Profect is packaged in a read-to-drink, virtually unbreakable three-ounce vial that requires no refrigeration and can be consumed at any temperature. The high amount of protein in each serving of Profect can help in wound closure, improving immune responses, preventing infections or sepsis, and preventing immediate and late complications.
Each serving of Profect contains 25 grams of protein, zero fat, zero carbs, zero sugar, and 100 calories. An injured patient requires more protein than a non-injured patient because of the increased metabolic activity of wound healing. Profect allows patients to consume the maximum amount of nutrition per calorie obtained in every serving. Its small size can allow for patients with a decreased appetite to still obtain protein without having to consume voluminous foods or beverages.
Profect can help provide extra protein to patients that require such a high amount that may be difficult to obtain from diet alone. In a non-injured state, adults require approximately 0.8 grams of dietary protein per kilogram of body weight per day. Elderly patients have a higher protein requirement (1-1.2 grams of dietary protein per kilogram of body weight per day) due to a decreased ability to synthesize proteins. The surgical/trauma patient can require significantly more protein. Minor surgery may not significantly increase the protein requirement; however, if the patient is already protein malnourished, wound healing will be adversely affected unless dietary protein intake is increased. Profect provides a large amount of protein in an amount of liquid that is small enough to be consumed by a patient with little to no appetite. Major surgery can increase protein requirements by ten percent, while a patient with multiple traumas may need 75 percent more protein. Special cases like burn wounds cause tremendous metabolic stress and have the greatest impact on protein requirements, increasing protein need 75-100 percent. Profect's high protein content can help patients who require extra protein heal recover faster.
About Protica
Founded in 2001, Protica, Inc. is a research-based nutraceutical firm headquartered in Whitehall, Pennsylvania. In its privately owned 250,000 square foot facility, Protica manufactures capsulized foods, such as Profect® ready-to-drink liquid protein beverage, Isometric® ready-to-drink meal replacement shot, Fruitasia® ready-to-drink fruit and vegetable shot, Protein Gem® ready-to-eat healthy gelatin, Protein Twist® ready-to-eat protein candy, Pediagro® ready-to-drink children's meal replacement, Proasis® all natural ready-to-drink liquid protein shot, and many other brands in ready-to-drink and ready-to-eat form. To learn more about Protica please visit http://www.protica.com