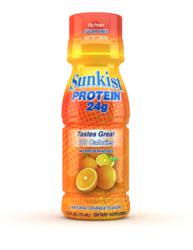 Moms looking to lose weight and eat better can use Sunkist Protein before a meal
Whitehall, PA (PRWEB) March 16, 2012
Protica is pleased to announce that their Sunkist® 24g shot has been chosen to be featured in a standalone article in Splash Magazine. Sunkist Protein, along with Protica's entire product line, were chosen to be included among 55 products featured in Splash Magazine's Mother's Day Gift Guide. Among the products included in the gift guide, a limited number of select products are chosen to be featured in their own standalone article, and Sunkist 24g was one of those selected.
Splash Magazine's gift guide features unique entertainment, food and beverage, technology, style and fashion, home and garden, health and beauty, and travel gift ideas. Splash magazine has local magazine's in 21 cities including, Amsterdam, Atlanta, Barcelona, Bangkok, Boston, Chicago, Dallas, Denver, Detroit, Hawaii, Las Vegas, London, Los Angeles, Miami, New York, Paris, San Diego, San Francisco, Tokyo, Toronto and Washington D.C. Protica is pleased to have their products chosen to be featured in the Mother's Day gift guide and even more so to have Sunkist 24g Protein Shot featured in its own article.
Sunkist Protein contains 24 grams of ready-to-drink protein in one serving, providing necessary protein to the diet. Sunkist Protein provides convenience to consumers who are looking to add extra protein in their diet. Sunkist Protein is heat and cold stable, allowing it to be stored and consumed at any temperature. Each 2.5 ounce serving can be taken anywhere and consumed on the go. Sunkist Protein is ready to drink so consumers do not have to measure out powders or use a blender to prepare a protein drink. Every bottle contains less than three ounces of liquid and provides 24 grams of protein. These attributes allow people to consume 24 grams of protein in just a few sips.
Mothers along with anyone who has a hectic schedule can benefit from Sunkist Protein. Moms looking to lose weight and eat better can use Sunkist Protein before a meal. Consuming Sunkist Protein before a meal will allow moms to eat less and feel full longer. The high protein content can also help speed metabolism and stimulate calorie burn. Sunkist Protein's formulation also provides extra energy without caffeine or other stimulants. A mother with a busy schedule can use Sunkist Protein for extra energy to get through a workout no matter how tired they may feel.
"We are thrilled and very thankful to be included in Splash Magazine's Mother's Day Gift Guide and especially honored that our Sunkist 24g product was chosen for its own article," commented Jim Duffy, president and founder of Protica.
The Sunkist 24g article can be seen at http://www.lasplash.com/publish/health_and_beauty_goodies/sunkist-protein-24g-shot.php
About Sunkist
Founded in 1893, Sunkist is America's oldest and largest citrus marketing cooperative, owned by thousands of citrus growers in California and Arizona. Over the years, Sunkist has built an international citrus marketing organization and a brand that is one of the best known and most respected in the world. Today Sunkist is a leading licensor with hundreds of products around the globe bearing the famous Sunkist trademark.
About Protica
Founded in 2001, Protica, Inc. is a research-based nutraceutical firm headquartered in Whitehall, Pennsylvania. In its privately owned 250,000 square foot facility, Protica manufactures capsulized foods, such as Profect® ready-to-drink liquid protein beverage, Isometric® ready-to-drink meal replacement shot, Fruitasia® ready-to-drink fruit and vegetable shot, Protein Gem® ready-to-eat healthy gelatin, Protein Twist® ready-to-eat protein candy, Pediagro® ready-to-drink children's meal replacement, Proasis® all natural ready-to-drink liquid protein shot, and many other brands in ready-to-drink and ready-to-eat form. To learn more about Protica please visit http://www.protica.com