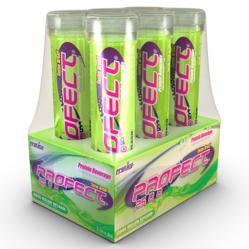 Profect can help provide college students with healthy nutrients helping them avoid the freshman fifteen
Whitehall, PA (PRWEB) April 02, 2012
Protica is pleased to announce that its newly released protein shot, Profect®, was designed with the needs of college students in mind. Profect protein can be used by college student to ensure they are consuming a healthy diet while away from home for the first time. Profect's nutritious formulation may also help college student avoid the "freshman fifteen," a term for the weight gained by the typical incoming college student in their first year.
Every serving of Profect provides 25 grams of protein, zero fat, zero carbohydrates, and zero sugar. Protica designed Profect with the understanding that it is not just a myth that students can gain fifteen pounds when they enter college. One of the major reasons that these students gain weight may be due to the campus foods and meal plans offered by most schools that are high in carbs and fat but provide little protein. Profect's formulation was designed to fortify a less than healthy diet by providing high amounts of protein to balance the fat and carbohydrates that are served in many college dining halls.
Profect requires no preparation, and its 2.9 ounce serving size allows it to be consumed in just few sips. This feature will allow those students who feel they are too busy to eat a nutritious meal to consume something healthy, without having to take time to prepare and eat a meal. The high protein content in Profect will also provide a lasting sense of fullness, which may help a student abstain from eating unhealthy snacks between meals. Profect's sweet flavors can help satisfy the craving for less than healthy snacks. A student can replace drinking a soda with Profect, replacing unhealthy sugar calories with healthy protein.
Exercise is important for college students to maintain a healthy weight. Some students may find it difficult to begin an exercise regimen, and Profect can help. The high amount of protein in Profect can provide a natural source of energy without caffeine or other stimulants. Drinking Profect before exercising can provide extra energy to get through a workout.
Protica is confident that their new protein shot can help college students avoid unhealthy weight gain while living on a college campus. Profect can help provide college students with healthy nutrients helping them avoid the freshman fifteen.
About Protica
Founded in 2001, Protica, Inc. is a research-based nutraceutical firm headquartered in Whitehall, Pennsylvania. In its privately owned 250,000 square foot facility, Protica manufactures capsulized foods, such as Profect® ready-to-drink liquid protein beverage, Isometric® ready-to-drink meal replacement shot, Fruitasia® ready-to-drink fruit and vegetable shot, Protein Gem® ready-to-eat healthy gelatin, Protein Twist® ready-to-eat protein candy, Pediagro® ready-to-drink children's meal replacement, Proasis® all natural ready-to-drink liquid protein shot, and many other brands in ready-to-drink and ready-to-eat form. To learn more about Protica please visit http://www.protica.com