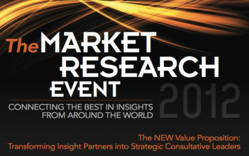 Protobrand presents 'Mood of the Nation' and 'Moving Beyond the Rational' at TMRE in November
Boston, MA (PRWEB) October 26, 2012
Protobrand, a research and branding firm headquartered in Boston, MA, will be a featured speaker at The Market Research Event this November 12th through 14th in Boca Raton, Florida. Protobrand will be presenting two fascinating cases that employed its proprietary online consumer insight tool Meta4 Insight™, the world's only online metaphor elicitation tool.
The first presentation entitled "Mood of the Nation," demonstrates how Meta4 was used to capture the pulse of America and explain the "why" behind how consumers feel about their financial and personal situation. This presentation will shed new light on the consumer sentiment data produced monthly in the media. The presentation will be given at 8:15 am on November 12th, by Stephen Hahn-Griffiths, who's an agency world veteran and now a strategic adviser at Protobrand.
The second presentation, entitled "Moving Beyond the Rational: Using Emotional Needs to Drive Brand Differentiation," will be presented together with Marriott to showcase work performed with Meta4 to capture the emotions of different kinds of travelers. In this presentation we will reveal how the application of emotions theory was used to create a differentiated and engaging strategy across the Marriott family of hotel brands. The case will be presented during at 10:30 am on November 14th.
"'The Market Research Event' is the premier market research event worldwide, and Protobrand is proud to contribute to the global research conversation," says Phil Granof CEO of Protobrand. "The two presentations we are contributing demonstrate how new methods of consumer inquiry can transform insights into powerfully pragmatic actions for marketers."
About Meta4
Meta4 Insight™ builds upon decades of academic thought and scientific research into the workings of the human mind. Metaphor elicitation is a well-known technique among market researchers for tapping into consumers' deep-seated feelings and underlying motivations. Ensuring data saturation, Meta4 uniquely conducts this technique in an online setting, using a proprietary image database to reveal people's unconscious minds.
About Protobrand Sciences, Inc.
Headquartered in Boston, MA, Protobrand is an independent research and branding agency driven by consumer insight. Using its proprietary tool Meta4 Insight™ — the first online application of metaphor elicitation — Protobrand works with agencies and brands to uncover the rich, unseen motivations behind human behavior. Clients include global and nationally recognized brands such as Ocean Spray, Lee, Wrangler, Taco Bell, Nivea, Bank of America, Reebok, Toyota, and Wrigley.