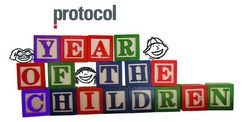 Giving back to those in need within our communities is an annual priority at Protocol
Sarasota, FL (PRWEB) April 28, 2009
Protocol Integrated Direct Marketing, a trusted provider of contact center services and solutions including integrated direct marketing capabilities for the Corrections, Healthcare, Energy, Financial Services, Government and Insurance markets, today announced it has kicked off its 2009 charitable giving initiatives with a company-wide book drive. It is the first of four charitable efforts Protocol will undertake in 2009 to support its theme, the "Year of the Children" to meet and deliver on the company's philanthropic goals.
"Giving back to those in need within our communities is an annual priority at Protocol," said Christine Haerich, Vice President of Compliance and Strategic Account Development. "In the 'Year of the Children' philanthropic initiative, Protocol employees and partners will dedicate themselves to making a positive impact on the lives of children throughout 2009."
For the book drive, each of Protocol's 10 North American locations are collecting gently-used books through the end of March. In April, donated books will be distributed to schools, libraries, and organizations in need within each local Protocol community. Additional "Year of the Children" initiatives for 2009 include volunteer partnerships with the Special Olympics, a summer school supply drive and a holiday season food and toy drive.
The outstanding results of previous initiatives demonstrate the generosity of Protocol employees and partners. Last September, Protocol associates, in partnership with the American Teleservices Association (ATA), donated nearly 500 pints of blood to the Red Cross. A Thanksgiving season food drive provided several hundred pounds of donated food to hungry families.
"Every year, I'm touched by the enthusiasm and generosity of our people in making these initiatives a success," said Don Norsworthy, President and CEO. "We're proud to give back to the 10 communities that are so vital to the success of Protocol and our people."
About Protocol Integrated Direct Marketing:
Protocol is your single source for contact center services and cutting-edge direct marketing solutions. From lead generation to customer acquisition, retention, up-sell, cross-sell, and winback campaigns, Protocol helps you find, interact with, and keep customers through virtually every channel and touch point. In addition, we proactively add value to the relationships between our clients and their customers with a diverse range of services, including strategic and creative campaign development; data analytics; print and mail production; and campaign analysis, With 2,700 associates and 10 locations across the U.S. and Internationally; Protocol is one of the largest privately held integrated direct marketing companies in the country. Learn more at http://www.protocolglobalsolutions.com. d/b/a PROTOCOL GLOBAL SOLUTIONS
###