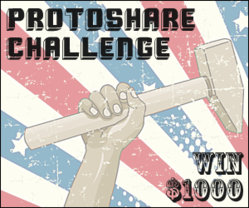 Portland, OR (PRWEB) June 25, 2013
Site9, Inc. today announced the ProtoShare Challenge, offering a $1,000 prize for the best interactive prototype of a website, mobile site or software application created with ProtoShare, one of the industry's leading collaborative user interface prototyping tools. In addition, three prizes of $250 each will be awarded for honorable mentions. Winners will be selected based on the quality of the design, user experience, completeness and overall effectiveness of their interactive prototypes. Entries must be received by 6:00pm Pacific Daylight Time on July 31, 2013.
Entries in the ProtoShare Challenge may consist of one prototype design or multiple designs of the site or application for various devices. High fidelity prototypes are encouraged. Prototypes will be judged based on four criteria:

Design: Is the visual design of the prototype compelling and effective?
User Experience: Is the interactivity intuitive and simple to use, given the mission of the prototype?
Completeness: How close to the final product is the prototype?
Overall Effectiveness: How well does the prototype solve the problems it purports to address?
All entries will be judged by a committee of ProtoShare employees. Winners will be notified via email by August 30, 2013.
How to Enter:
No purchase is necessary to enter or win, and there are two ways to enter:
1) For existing ProtoShare customers, prototypes should be exported as a zip file and sent via email to Marketing(at)ProtoShare(dot)com.
2) ProtoShare Trial customers may email CustomerService(at)ProtoShare(dot)com who will then create the export for submission.
Individuals, teams and businesses may apply. Complete contest rules and submission details can be obtained at: http://www.protoshare.com/prototype-challenge/.
"Since we released ProtoShare in 2008, we have seen many beautiful prototypes our customers have created over the years," said Andrew Mottaz, Site9 president and founder. "We felt it was time to give ProtoShare users a chance to show off their work, and show some of the amazing things people are doing with ProtoShare. We're really excited to see what prototypes people submit and we're glad to be able to provide a nice set of prizes for the winners," Mottaz added.
About ProtoShare
ProtoShare is a web-based wireframing and prototyping tool for web and mobile sites and applications. It enables the rapid and collaborative creation of interactive prototypes with a WYSIWYG, drag-and-drop interface as well as advanced components users can customize. ProtoShare is not a Flash tool; it uses HTML, CSS, and JavaScript. For more information about ProtoShare, visit protoshare.com.
About Site9, Inc.
Founded in 1999, Site9, Inc. is the developer of ProtoShare. Fortune 500 companies, leading interactive agencies, and web developers in over 84 countries around the world use ProtoShare collaborative wireframe and prototyping software to deliver better digital experiences while cutting time and costs.
Media Contact:
Jennifer Allen Newton
Bluehouse Consulting Group, Inc.
Phone: 503-805-7540
jennifer (at) bluehousecg (dot) com