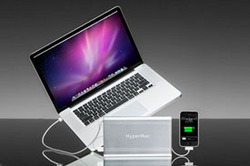 modern life comes with a mains lead, we can't quite get away from that, but HyperMac batteries are helping MacBook users to break the tie.
(PRWeb UK) March 15, 2010
Protronica are the first business in the UK to have acquired the range of HyperMac batteries for MacBooks which they are now supplying exclusively through their new website, Protronica.co.uk.
The HyperMac battery is the world's only external battery that works for all MacBooks, iPhones and iPods. Their introduction of this product to the UK market is great news for those who want to use their MacBooks for working or playing whilst travelling through airports or on planes or trains. In fact, it's ideal for any situation when hours of use are required with no access to power.
The high end lithium ion cells are rechargeable up to 1000 times (over three times industry standard) and can provide phenomenal power back up of up to 34 hours. They also enable the user to re-charge their MacBook, iPhone and iPod simultaneously.
Protronica.co.uk supply a number of breakthrough technological products, and are also releasing the stylish HyperMac batteries for iPod and iPhone with aluminium cases coloured to match the iPod Nano range. These external batteries aimed at maximising the time consumers can spend using iPods and iPhones without access to power, are said to bring "sexy back to battery packs". This exciting new range will be available shortly.
Robert Garner, sales director of Protronica says "Modern life comes with a mains lead, we can't quite get away from that, but the HyperMac batteries are helping our customers break the tie".
For more information about Protronica Ltd visit http://www.protronica.co.uk.
About Protronica Ltd
Also available at Protronica.co.uk is ProNav – the Satellite Navigation tool for professional drivers. This advanced Sat Nav tool has a number of exciting features including its ability to provide routes specifically aimed for vehicles with weight and height restrictions.
With its origins in Electronic Manufacturing Services, Protronica has assisted a number of prestigious businesses in the manufacture of high-class technical products. They are now bringing their experience in high quality manufacturing and in depth technical expertise directly to the consumer.
Protronica Ltd
Protronica Ltd, Studio 2 Ryebrook Studios, Woodcote Side,
Epsom,, Surrey KT18 7HD
UK - England & Wales
Telephone: 01372 847930
###