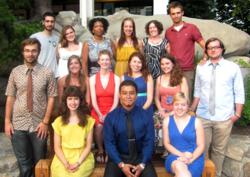 PROVIDENCE, RI (PRWEB) September 29, 2012
Providence Children's Museum's 16th AmeriCorps team recently completed the 2011-12 service year, spending 22,000 hours extending the Museum's reach to children most in need of enriching, engaging play and learning experiences.
The Museum's AmeriCorps team is a group of dynamic and diverse individuals who, under the guidance of Museum education staff, work to instill a lifetime love of learning in children. Dedicated to a year of outreach service at the Museum, AmeriCorps members receive training in hands-on learning as well as living allowances and educational grants in return for their participation in this national service program.
Providence Children's Museum has been an AmeriCorps national service site since 1997, committed to training a team of educators to bring engaging play-based activities to children whose exposure to rich learning experiences is limited. The Museum's AmeriCorps program has served nearly 20,000 children through innovative outreach to inner-city community centers and Head Start programs over 15 years.
The 16 members on the 2011-12 team extended the Museum's reach to kids and families in underserved communities throughout and around Providence and had a tremendous impact. The team helped children discover the joy of learning as they:

Led imaginative hands-on activities about the value of diversity to help improve school readiness for 1,000 Head Start preschoolers, and welcomed them on fun-filled Museum explorations.
Facilitated after-school Learning Clubs – engaging STEM (science, technology, engineering and math) enrichment activities – for 550 elementary school-aged children from 18 community centers in Providence and Pawtucket. Participants benefited from engaging hands-on activities that foster science process and problem solving skills and exploring the Museum's interactive exhibits.
Served 200 children with expanded summer enrichment programming, designed to combat summer learning loss – an average of two months of grade-level equivalency in math skills and three months in reading skills.
Welcomed 1,100 low-income children and their family members to free Museum family nights, where they received complimentary year-long admission passes.
The Museum's AmeriCorps program is made possible by a grant from the Corporation for National and Community Service and Serve Rhode Island with additional support from Amgen Foundation; Billy Andrade-Brad Faxon Charities for Children; Bristol County Savings Charitable Foundation; The John Clarke Trust, Bank of America, Co-Trustee; Cox Charities of New England Fund; The Hassenfeld Foundation; Frank B. Hazard General Charity Fund, Bank of America, Trustee; Harry M., Miriam C. & William C. Horton Fund, Bank of America, Co-Trustee; Museum Annual Campaign Donors; The Providence Shelter; Talbots Classics National Bank; Textron Charitable Trust; and UnitedHealthcare of New England.
Pictured, left to right:
Front - Suzie Doogan, Jeysey Ordonez, Megan Beauregard
Middle - Andy Axel, Ann Kerrin, Sarah Bonawitz, Stacy Greenberg, Casey Lumb, Ryan Queenan
Back - Alex Balsen, Meagan Amylon, Kassie Edwards, Leah Paladino, Rebecca Gormley, John Rossi