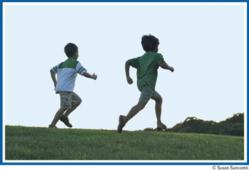 (PRWEB) September 24, 2012
Providence Children's Museum is partnering to present two free public screenings of "Where Do the Children Play?" in October. The provocative documentary examines an issue of growing concern among pediatricians, mental health experts, educators and environmentalists: more and more children are growing up with limited time and opportunities for unstructured play, especially outdoors.
An audience discussion about the ideas explored in the film will follow. The film will be shown:
WHEN: Wednesday, October 3 • 6:30 - 8:30 PM
WHERE: The Providence Athenaeum (251 Benefit Street, Providence, RI 02903)
Panelists are Linda Atamian, co-founder of The Mariposa Center; Dr. Jane Dennison, pediatrician; Janice O'Donnell, Providence Children's Museum executive director; and Julia Steiny, education columnist and director of the Youth Restoration Project. Presented by the Providence Athenaeum, Providence Children's Museum and the Partnership for Providence Parks.
Space is limited. RSVP to Lindsay Shaw at lshaw (at) provath (dot) org or (401) 421-6970 ext. 17.
WHEN: Thursday, October 11 • 6:30 - 8:30 PM
WHERE: Blackstone Valley Visitor Center (175 Main Street, Pawtucket, RI 02860)
Panelists are John Blais, Pawtucket Parks and Recreation director; Dr. Elizabeth Lange, pediatrician and former RI American Academy of Pediatrics chapter president; Cindy Larson, LISC senior program officer; and Janice O'Donnell, Providence Children's Museum executive director. Presented by Pawtucket Child Opportunity Zone (COZ), Pawtucket Citizens Development Corporation, Pawtucket Parks and Recreation Department, and Providence Children's Museum.
Space is limited. RSVP to Jane Blanchette at blanchettej (at) psdri (dot) net or (401) 729-6293.
A marked decline in children's spontaneous, unstructured and creative play is a key factor in their increasing stress levels and mental health problems, according to a 2007 clinical report from the American Academy of Pediatrics (AAP). Causes of the demise of play include parental fears of "stranger danger" and the explosion of electronic entertainment in the lives of today's children. These and other issues are explored in the film.
The lead author of the AAP report, Dr. Kenneth Ginsburg of the Children's Hospital of Philadelphia, appears in the documentary, along with Last Child in the Woods author Richard Louv, British "playworker" Penny Wilson, and other experts in child development, psychology and urban planning. Most striking, however, are the scenes of children themselves engaged in the rapt state of self-directed play and then describing the importance of time and space for free play in their increasingly hectic lives.
"As an advocate for the importance of children's self-directed play – both indoors and outdoors – Providence Children's Museum has partnered with schools and other organizations across the state to screen this powerful film," said Museum director Janice O'Donnell. "We – as parents, as educators, as policy makers, as a community – must safeguard time and space for children's play."
For more information about "Where Do the Children Play?," contact Megan Fischer at Fischer (at) ChildrenMuseum (dot) org or visit the film's website: http://www.wfum.org/childrenplay/.