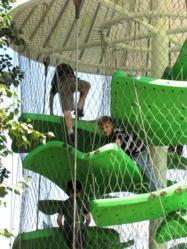 PROVIDENCE, RI (PRWEB) June 25, 2013
Get out and play at Providence Children's Museum this summer! Kids explore the Museum's great outdoors as they jump, stretch, splash and climb in its native Children's Garden. Discover two outdoor play spaces that promote active, physical exploration: The Climber, an artful two-story-high climbing sculpture, and Underland, a whimsical subterranean adventure through worm tunnels and critters' burrows.
Pack a picnic and join Get Out!, a series of active outdoor programs on Tuesdays in July and August from 1:00 - 3:00 PM:
July 2 | Balloon Badminton: Decorate rackets and keep a balloon bouncing back and forth.
July 9 | Water Movers: Use tubes, hoses and funnels to build aqueducts that channel water in different ways.
July 16 | Weaving Wonders: Explore the art of weaving with natural and recycled materials.
July 23 | Bubble Blast: Experiment with ways to blow bubbles big and small using an assortment of wacky tools.
July 30 | Outside the Box: Transform a collection of cardboard boxes using an array of art materials.
August 6 | Meet a Worm: Investigate red wriggler composting worms and hold night crawlers.
August 13 | Sculpt the Clouds: Create sculptures from a selection of interesting materials.
August 20 | Hoop-la: Kids invent their own fun and games with hoops of all sizes and colors.
August 27 | Jump In: Kids hop, skip and jump as they experiment with a variety of jump ropes.
All programs are free with Museum admission of $9.00 per person; admission is free for Museum members. Visit http://www.ChildrenMuseum.org for more information and a full calendar of events.