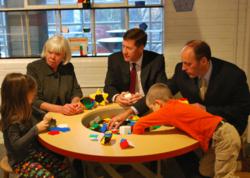 National Grid strongly supports Providence Children's Museum mission to provide a stimulating learning environment.
Providence, RI (PRWEB) December 14, 2012
Providence Children's Museum, an active place where kids and grown-ups play and learn together, has received a $50,000 grant from National Grid to support the Museum's major new exhibit, ThinkSpace, as well as provide free Museum admission to 500 low-income families. Education is one of National Grid's charitable focuses and this gift signifies their understanding that spatial thinking is the basis for STEM (science, technology, math and engineering) learning. It also demonstrates National Grid's strong commitment to southern New England's children and families and will help the Museum continue to serve families in need; 40 percent of the Museum's $2.1 million operating budget goes to services for low-income children and families.
"National Grid strongly supports Providence Children's Museum mission to provide a stimulating learning environment for our young people," said Timothy F. Horan, president of National Grid in Rhode Island. "This donation is a reflection of our company's commitment to fund learning programs in Rhode Island and all of our jurisdictions."
"We are deeply grateful to National Grid for their $50,000 lead corporate sponsorship of ThinkSpace," said Museum Executive Director Janice O'Donnell. "By supporting our newest exhibit, National Grid will help the Museum foster young children's interest in STEM subjects, and ensure hands-on learning opportunities for children and families of southern New England."
About National Grid
National Grid is an electricity and gas company that connects consumers to energy sources through its networks. The company is at the heart of one of the greatest challenges facing our society – to create new, sustainable energy solutions for the future and develop an energy system that underpins economic prosperity in the 21st century. National Grid delivers electricity to approximately 3.3 million customers in Massachusetts, New York and Rhode Island. It manages the electricity network on Long Island under an agreement with the Long Island Power Authority (LIPA), and owns over 4,000 megawatts of contracted electricity generation, providing power to over one million LIPA customers. It is the largest distributor of natural gas in northeastern U.S., serving approximately 3.4 million customers in New York, Massachusetts, and Rhode Island. For more information, visit http://www.nationalgridus.com.